Philippines, Singapore firms ink $185.7 million business deals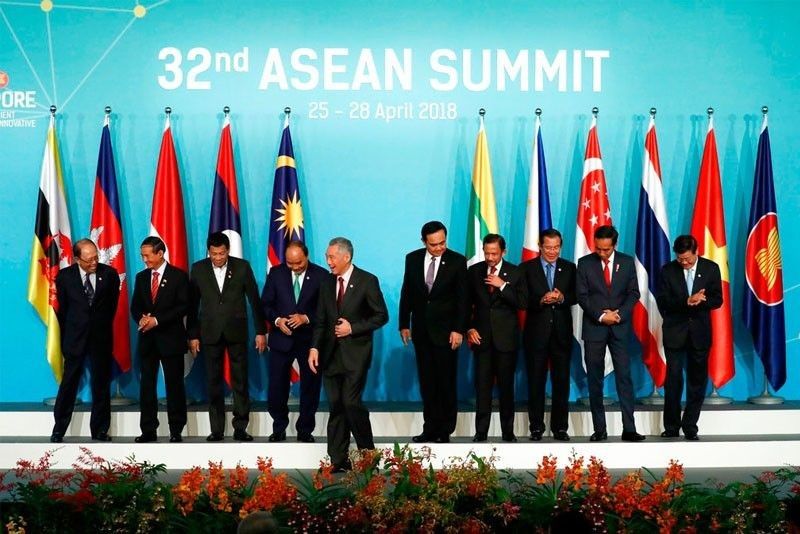 MANILA, Philippines — Philippine and Singapore firms have signed $185.7 million worth of investment agreements that will provide some 1,920 job opportunities once these projects push through.
The Department of Trade and Industry (DTI) reported yesterday that the Philippines continues to be an investment destination for Singaporean companies, with 10 agreements signed at the sidelines of the 32nd Association of Southeast Asian Nations (ASEAN) Summit in Singapore yesterday.
The investment agreements cover collaborative works on aviation, solutions for sustainable urbanization, as well as development of marine renewable energy, packaging, film manufacturing, information, communications technology, financial technology, water solutions, prefabricated projects, food and blockchain technology.
President Duterte witnessed the presentation of six memorandum of understanding and four letters of intent (LOI) signed between Singaporean companies and the Philippine business delegation composed of Filinvest Development Corp., Jollibee Foods Corp., Cebu Air Everhydro Corp., ICS ICT Support Service Corp. and Ascent Solutions Philippines.
The Singaporean companies included Keppel Corp., OceanPixel, SIA Engineering Co. Ltd., Hitachi Asia Ltd., Robin Village International Pte. Ltd., Ascent Solutions Pte. Ltd., and Golden Beeworks Pte. Ltd. Trade and Industry.
Jollibee's agreement with Golden Beeworks includes the development of 25 new Jollibee outlets in Singapore over the next five years.
Cebu Air and SIA Engineering's agreement involves discussions for potential growth opportunities that includes expansion of hangar facilities in Clark.
The Gotianun-led Filinvest, meanwhile, signed two agreements. The first is with Keppel to explore cooperation opportunities in the development of projects in Filinvest City, edge computing data centers in Metro Manila and urban solutions for Clark City.
The other agreement with Hitachi is intended to provide framework for the exploration of collaborative opportunities for social innovation business, energy management, information and communication technology, water solutions, security, financial technology, and urban development.
Trade Secretary Ramon Lopez also signed an LOI with ASEAN Business Advisory Council chairman Robert Yap involving a feasibility study on a suitable site for the implementation of a free online marketplace called SGConnect legacy project.
Lopez also signed an LOI with Lepack Packaging Pte. Ltd. director Lim Seong Nam to explore opportunities to help micro, small and medium enterprises by developing innovative packaging.
Last year, DTI said Singapore was the country's 6th trading partner, 5th export market, and 7th import supplier with total bilateral trade valued at $9.34 billion.
Approved investments amounting to P2.13 billion from Singapore in 2017 were recorded in the electricity, gas, steam and air conditioning supply industry.
Lopez continues to urge the Singapore business community to join the Philippines' growth story by locating and expanding their businesses in the country.
"There are enormous opportunities for companies partnering with Philippines as the country is on its economic breakout. The 6.7 percent GDP growth, increasing consumer base, and highly-skilled and young workforce complement the various reforms and infrastructure programs of the government, as well as new policies in enhancing business environment and competitiveness," Lopez said.
"We are a strategic partner as the Philippines is located at the crossroads of international shipping and airlines, and a natural gateway to the East Asian economies. With our preferential agreements to big economies, we can also provide access to the large US and EU markets," he added.