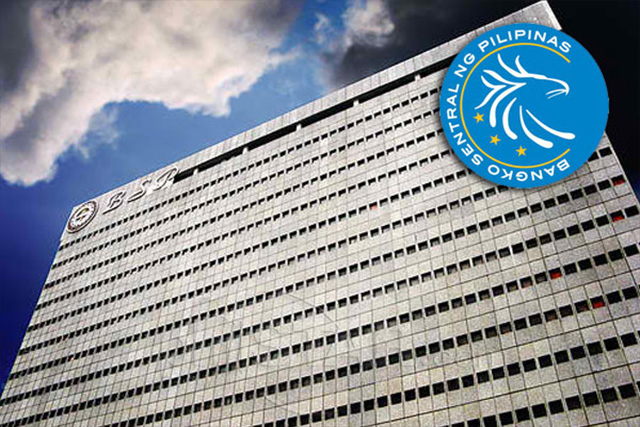 Overall price spikes averaged 3.7 percent for the first two months of 2018 under the 2012 base year, hovering on the top end of the central bank's annual inflation target.
File photo
Int'l think tank expects Bangko Sentral to lift key rate in May amid inflation
MANILA, Philippines — The Bangko Sentral ng Pilipinas will likely tighten monetary policy for the first time in more than three years in May to tame building price pressures, an international think tank said.
In a report dated March 28, analysts at GlobalSource Partners said they expect the BSP to raise the overnight reverse repurchase rate by 25 basis points at its next monetary policy review on May 10.
Chances of a rate hike are high "given expectations of further US monetary tightening," GlobalSource said.
As expected, the central bank on March 22, left key rates unchanged, dashing the prospect of an interest rate hike to anchor inflation expectations.
The BSP's reluctance to tweak policy rates came even after the Federal Reserve raised its key interest rate on March 22 and hinted at two more hikes this year in a vote of confidence in the U.S. economy's resilience.
But Governor Nestor Espenilla Jr. said the central bank doesn't need to follow tightening moves made by the Fed, as he stressed that the Philippines is charting an "independent" monetary policy tilted towards domestic considerations.
Nonetheless, Espenilla acknowledged that inflation expectations "have started to rise and will therefore need to be monitored closely in the coming months."
The BSP chief likewise said the economy is sturdy enough to "absorb some policy tightening if warranted"—a clear signal that the central bank's door is open for adjustments in benchmark interest rate.
Policy setting has been steady since the BSP lifted rates by 25 basis points in September 2014.
Inflation path
In the same report, the New York-based think tank said it expects full-year 2018 inflation to breach the central bank's 2-4 percent target band, adding that consumer prices will likely keep rising to hit a peak in July to September.
"We are forecasting a 4.2 percent average for the year under the new series, with the inflation path peaking in the third quarter at around 5 percent, before sliding back down and averaging in the middle of the target range in 2019," GlobalSource analysts said.
Last February, inflation, as calculated on 2012 base-year, accelerated to a three-year high of 3.9 percent, which the BSP partly attributed to "full pass-through cost" of a tax reform law that slapped higher excise levies on fuel and cigarettes, among others.
Overall price spikes averaged 3.7 percent for the first two months of 2018 under the 2012 base year, hovering on the top end of the BSP's annual inflation target.
Using the rebased index, the central bank projects inflation to average 3.9 percent this year, before easing to 3 percent in 2019.
Last Thursday, the BSP said inflation might hit 3.8-4.6 percent in March under the revised price index, as increased electricity rates and upswing in fuel prices, among others, probably pushed up prices of key consumer items for the month.
The Philippine Statistics Authority recently announced that it would shift the base year for monthly consumer price index to 2012 to reflect "economic, social and technological changes" that likely influenced consumption patterns.