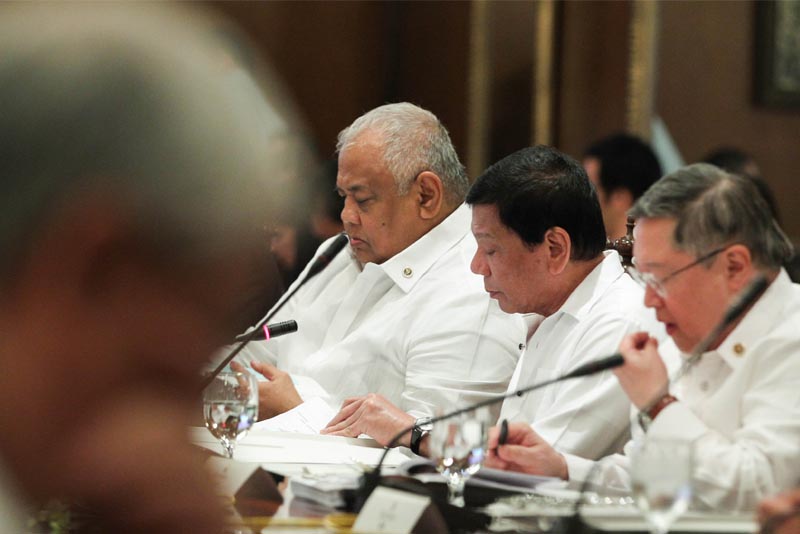 President Rodrigo Duterte presides over the National Economic and Development Authority Board meeting in Malacañan Palace on Feb. 20, 2017. Also in the photo are Executive Secretary Salvador Medialdea (left) and Finance Secretary Carlos Dominguez III. King Rodriguez/Presidential Photo
NEDA-ICC readies more projects for Duterte-chaired board's approval
MANILA, Philippines — Big-ticket projects, including those for flood control and traffic decongestion, have been approved by the National Economic and Development Authority-Investment Coordination Committee.
The projects that got the NEDA-ICC's nod were the Ambal-Simuay River and Rio Grande de Mindanao River Flood Control Projects cumulatively worth P39.2 billion.
The Cabinet-level body also accepted the construction of 10 proposed priority bridges crossing Pasig-Marikina River and Manggahan Floodway amounting to P27.37 billion.
They form part of the 75 flagship projects of the Duterte administration, NEDA said.
The NEDA-ICC likewise approved the Trade department-backed Rural Agro-Enterprise Partnership for Inclusive Development and Growth for 78,000 farming households, as well as changes in the Integrated Marine Environment Monitoring System Phase 2 Project of the Department of Agriculture.
Changes in projects like the Integrated Disaster Risk Reduction and Climate Change Adaptation Measures in Low-Lying Areas of Pampanga Bay, and the Integrated National Resource Management Project of the Environment department also secured the approval of NEDA-ICC.
These ICC-approved projects will be elevated to the NEDA Board, chaired by President Rodrigo Duterte, for confirmation.