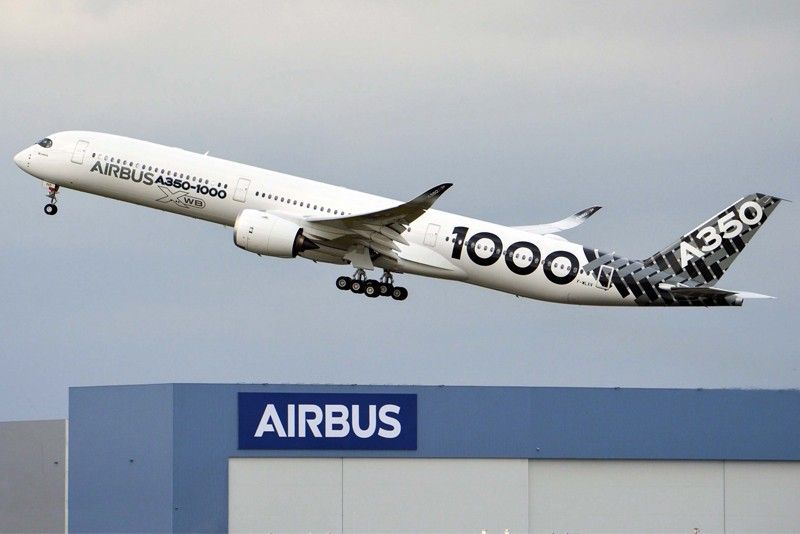 Philippine Airlines plans to add bigger Airbus aircraft to fleet
MANILA, Philippines — Flag carrier Philippine Airlines (PAL) is planning to include in its fleet the new long range wide-body Airbus A350-1000.
PAL president and chief operating officer Jaime Bautista told reporters on the sidelines of the demonstration flight of the Airbus A350-1000 at the Ninoy Aquino International Airport the carrier is interested in making the new aircraft part of its fleet.
"Of course, we are considering it," he said.
PAL has placed orders for six A350-900s and four are expected to be delivered within the year.
Apart from the orders for six A350-900s, PAL has an option to acquire another six.
Bautista said PAL could opt to get the A350-1000 instead of acquiring another six A350-900s.
"For the option, I'm sure Airbus will be happy if we convert those to A350-1000," he said.
The A350-1000, which can accommodate 366 passengers in a typical three-class configuration, is bigger than the A350-900 which can handle 295 passengers.
As the A350-1000 has high level of commonality with the A350-900 in terms of having same engine, as well as spare parts, Bautista said using them would allow PAL to save on training costs since pilots would be able to fly both aircraft.
PAL intends to use the four A350-900s expected to arrive this year, for flights to the US East Coast through the polar region, as well as to Europe.
Should PAL decide to place orders for the A350-1000, Bautista said the planes could be used for flights to the US.
"It can be replacement of older (Boeing) 777…We have not made a decision yet. So, we'll study," he said.
The new aircraft visited Manila as part of a three-week demonstration tour that is bringing the A350-1000 test aircraft across the Asia-Pacific region.
PAL, which has 88 aircraft on its fleet, expects to end the year with a total of 98 to 100 planes.