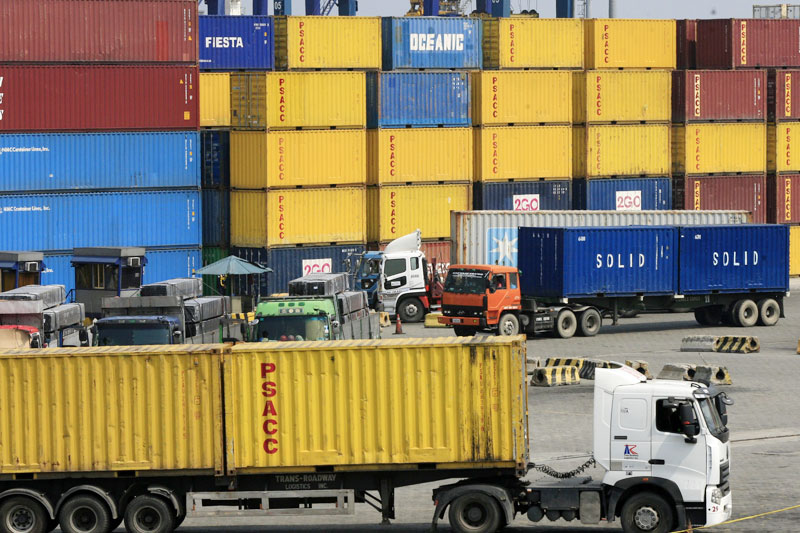 PPA said cargo volume reached 227.31 million metric tons in the 11-month period last year from 225.50 million MT a year earlier. File
Cargo volume posts flat growth
MANILA, Philippines — Volume of cargo at the country's ports registered flat growth from January to November last year, according to the Philippine Ports Authority.
PPA said cargo volume reached 227.31 million metric tons in the 11-month period last year from 225.50 million MT a year earlier.
Domestic cargo traffic went up 2.3 percent year-on-year, while foreign cargo traffic posted flat growth.
Domestic cargo container traffic rose by 53 percent to 9.08 million 20-foot equivalent units (TEUs) from 5.94 million TEUs a year earlier.
PPA said the higher container traffic was achieved amid robust shipping and trade activity during the review period.
Passenger traffic also grew by 4.31 percent to 64.87 million for the 11-month period last year from 62.19 million passengers in 2016.
"The positive outcome in traffic was propelled heavily by the continued reliance by the sea-traveling public on Ro-Ro vessels, fast crafts, and motorized bancas as primary mode of transportation for domestic inter-island connectivity," PPA general manager Jay Daniel Santiago said.
"In addition, the positive stream in passenger traffic serviced at the ports may have also been the result of favorable response of the public to the government's domestic eco-tourism programs encouraging leisure inter-island Ro-Ro travel to tourist destinations such as Siargao, Puerto Galera, Bohol, Coron, El Nido, and other emerging tourism sites," he said.
Ship calls likewise increased 3.27 percent to 410,384 as of end-November from 397,397 calls in the same period in 2016.
Domestic ship calls grew 3.33 percent year-on-year to 398,770 as of end-November, while foreign ship calls increased 1.23 percent to 11,615.