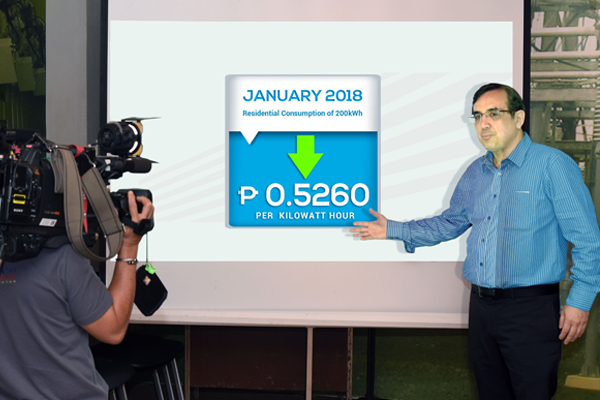 Meralco has decreased electricity rates in two consecutive months.
Meralco/Released
Electricity rate further drops in January
(philstar.com) - January 18, 2018 - 5:11pm
MANILA, Philippines — To start the new year, Meralco announced a drop in electricity rates for January, amounting to P0.5260 per kWh for a typical household, thereby bringing down the overall rate from last month's P9.2487 per kWh to P8.7227 per kWh.
This decrease amounts to a reduction of about P105 in the total bill of a typical residential customer.
The lower January rate is mainly due to a P0.5277 per kWh reduction in the generation charge. This is the second consecutive month of decrease in overall electricity rates, making the total reduction PhP0.9045 per kWh over the past two months.
Generation charge decreases
Generation charge decreased from P4.6045 per kWh in December to P4.0768 per kWh this January primarily due to lower Power Supply Agreements and Wholesale Electricity Spot Market charges.
Charges from PSAs registered a decrease of P0.9810 per kWh. The lower PSA charges were due to a reduction in capacity fees as a result of the annual reconciliation of outage allowances done at the end of each year under the PSAs approved by the Energy Regulatory Commission.
The reduction in capacity fees of generator companies represents savings immediately passed on to consumers by way of lower electricity rates.
The capacity fees from PSAs will return to normal levels after the downward adjustment this month. PSAs provided 40 percent of Meralco's total energy requirement.
Charges from the WESM also decreased by P1.6943 per kWh due to lower spot prices resulting from a reduction in power demand in the Luzon grid. The share of WESM purchases to Meralco's total requirement this month was 19 percent.
On the other hand, charges from the Independent Power Producers increased by P0.3808 per kWh due to lower average plant dispatch. The share of IPP purchases to Meralco's total requirement this month was at 41 percent.
Increase in transmission charge offset
Transmission charge of residential customers increased by P0.1168 per kWh due to higher NGCP ancillary service charges, but this was offset as taxes and other charges went down by P0.1151 per kWh this month.
Meralco's distribution, supply and metering charges, meanwhile, have remained unchanged for 30 months, after these registered reductions in July 2015. The company further reiterated that it does not earn from pass-through charges, such as the generation and transmission charges.
Payment for the generation charge goes to the power suppliers, while payment for the transmission charge goes to the NGCP. Taxes and other public policy charges like the FIT-All are collected by government.
Energy efficiency tips
As summer approaches, Meralco once again encourages its customers to continue practicing energy efficiency initiatives to help manage their electricity consumption. These include everyday household tips that may help save energy.
Simple tips such as unplugging appliances when not in use to avoid "phantom load." Use the aircondition at mid-setting or at 25 degrees Celsius for maximum efficiency. Using a power board or strip can supply power to several appliances at once and allows a user to conveniently turn them off simultaneously using just one switch. Maximize natural light during daytime and keep appliances well maintained to ensure optimal performance.
For more helpful tips, visit www.meralco.com.ph or Meralco's social media accounts, www.twitter.com/meralco and www.facebook.com/meralco.