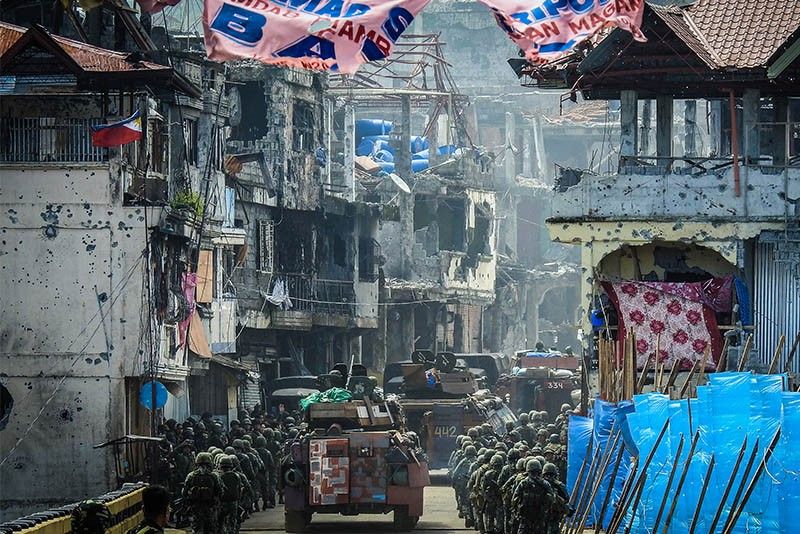 The BOI said yesterday it is proposing for the inclusion of Marawi and nearby localities in the list of Less Developed Areas (LDAs). AFP/Ferdinandh Cabrera, File
BOI prepares additional incentives for firms investing in Marawi
(The Philippine Star) - January 13, 2018 - 12:00am
MANILA, Philippines - The Board of Investments (BOI) plans to extend additional incentives to companies looking to invest in Marawi and nearby towns to jumpstart the rehabilitation and recovery in the war-torn area.
The BOI said yesterday it is proposing for the inclusion of Marawi and nearby localities in the list of Less Developed Areas (LDAs).
"Listing these areas as LDAs will encourage more investors, both local and foreign, to seriously look into investment opportunities in the said areas," Trade Undersecretary and BOI managing head Ceferino Rodolfo said.
According to the BOI, investment projects being put up in LDAs are entitled to maximum incentives provided under the Omnibus Investments Code such as a 100 percent deduction from taxable income of necessary and major infrastructure works.
Under the 2017 Investment Priorities Plan (IPP), activities in manufacturing, agribusiness, services, infrastructure, logistics, power generation, and mass housing sectors are entitled to incentives.
The BOI said the Regional Board of Investments-Autonomous Region in Muslim Mindanao, which regulates and exercises authority over investments within the ARMM, also offers incentives to activities engaged in agriculture, agribusiness, aquaculture and fishery, basic industries, consumer manufactures, infrastructure and services, industrial service facilities, engineering industries, logistics, BIMP–EAGA trade and investment enterprises, tourism, health and education services and facilities, and halal industry.
Rodolfo said encouraging investments in Marawi and nearby areas would bring in more employment and income opportunities which, in turn, could lead to normalcy or even better quality of life for returning residents and internally-displaced persons in the affected areas.
In 2016, the BOI approved the inclusion of 134 calamity-stricken cities and municipalities, including those devastated by Typhoon Yolanda, in the list of LDAs in the 2014-2016 IPP.
The initiative sought to stabilize and fasttrack the socioeconomic rehabilitation and redevelopment in the areas devastated by Yolanda back in 2013.
President Duterte on Oct. 17 last year, meanwhile, declared Marawi and its nearby localities free from terrorist influence, marking the beginning of the rehabilitation of the areas.
Trade Secretary and BOI chairman Ramon Lopez continued to assure foreign and local investors that the government fully prioritizes restoration of peace and order in the country, safeguarding not only the citizens but also the security of businesses and investments.
"We wish to reassure our investors that the peace and order climate in the country remains stable and sound," he said.
Lopez further said the government guarantees protection of investments the right to repatriate profits and benefit from the administration's drive for zero corruption.
In line with Marawi's rehabilitation, Duterte issued Administrative Order 3 creating Task Force Bangon Marawi, an inter-agency task force for the recovery and reconstruction of Marawi and the other affected localities.
Among the functions of the task force is to develop and implement a comprehensive rehabilitation and recovery program based on a post-conflict assessment, and form sub-committees to focus on different areas for development.