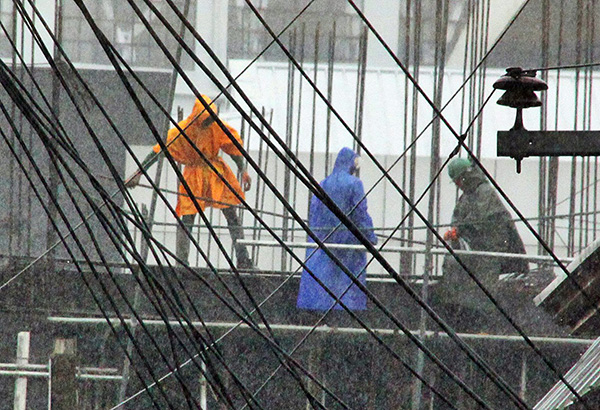 "We have 37 pending (applications), plus five from the previous administration, so 42 projects remain pending," Philippine Economic Zone Authority (PEZA) manager for promotion and public relations Elmer San Pascual revealed. File
P72 B ecozone investments on hold, await Palace OK
(The Philippine Star) - January 3, 2018 - 12:00am
MANILA, Philippines — About P72.4 billion worth of economic zone development projects are still on hold as of end-2017 as proponents await the presidential proclamations of these sites before starting construction and operation.
"We have 37 pending (applications), plus five from the previous administration, so 42 projects remain pending," Philippine Economic Zone Authority (PEZA) manager for promotion and public relations Elmer San Pascual revealed.
He said the proposed economic zones have a combined investment amount of P72.4 billion.
"It's just the first year in office of President Duterte, so he has new people in the Palace. We are trying to understand the reason. One is they have new people in the Palace who are still learning the processes and then the Palace also has new requirements," PEZA director general Charito Plaza said.
Plaza last year raised concern over the delays on the proclamation of new economic zones that have resulted in applications piling up at the Office of the President.
She was supported by the country's largest business organization, the Philippine Chamber of Commerce and Industry (PCCI), which earlier urged the government to fasttrack the presidential proclamation of economic zone applications already approved by PEZA as the delay has caused some investors to hold back on their planned investments.
Last October, the Office of the Executive Secretary met with officials of PEZA and PCCI to discuss ways on how to fasttrack pending and future presidential proclamations for the creation of special economic zones.
Executive Secretary Salvador Medialdea said reviewing the applications took longer than expected as some of the pending applications lacked important documentation and requirements, specifically those that pertain to land titles.
Following the meeting, San Pascual said a total of 13 new economic zone applications have been signed, five in November and eight in December.
"Hopefully by January, more will be released," Plaza said.
Under the current administration, PEZA said 35 ecozone applications with a total investment cost of P37.58 billion have been proclaimed.
These were composed of 26 information technology (IT) centers, four IT parks, four manufacturing economic zones and one agro-industrial economic zone.
Plaza said locator industries are waiting for their respective sites to be proclaimed first before commencing with the construction and operation of their facilities.