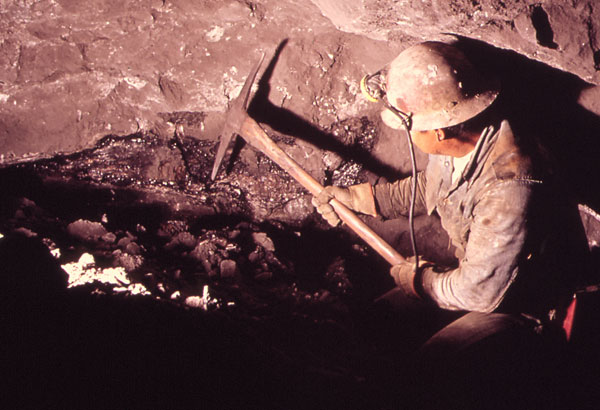 The minerals sector continued to make headlines in 2017 especially with the appointment of Lopez, an environmental advocate and staunch mining critic. File
YearEnder: A dizzying ride for mining sector in 2017
MANILA, Philippines — It was a roller coaster ride for the mining industry last year.
One minute it was down in the dumps, with regulatory changes threatening its existence. The next it was up in the clouds after its biggest opponent, former environment secretary Gina Lopez, lost her post.
The minerals sector continued to make headlines in 2017 especially with the appointment of Lopez, an environmental advocate and staunch mining critic.
But Lopez's reign did not last long after the Commission on Appointments rejected her nomination in May.
During her almost one year stint, Lopez issued controversial orders suspending and closing down mining firms for violation of safety standards, leaving the industry in disarray.
The mining sector remains in a quandary as Environment Secretary Roy Cimatu has yet to act on the appeal made by mining firms.
"We were expecting things to improve after his (Cimatu) confirmation. While he has spoken favorably of mining, he is quite cautious primarily because he is still unfamiliar with the industry. He is playing it safe," Chamber of Mines of the Philippines executive director Ronald Recidoro told The STAR.
"On whether there will be active promotion of the industry, we don't know because while he has said he is for responsible mining and has seen how other countries have benefitted, his ideas on mining are still very vague until now," he said.
"There are no concrete actions. We understand that it is part of his learning curve. But a large percentage of the industry's development and prospects will largely depend on what the Secretary plans to do, " Recidoro added.
Waiting for Cimatu
Mining firms are hoping Cimatu will finally lay down his cards and thresh out the industry's problems.
"We talked to him a few weeks ago, he told us that he just first dealt with the forestry, water, and other environmental issues but he said he would sit down with us in January to thresh out his policies for mining," Recidoro said.
On a scale of one to 10, CMP is giving Cimatu an eight for his performance in the past six months, a relatively higher grade considering the state of the industry.
"He has yet to address the critical concerns like the open pit and the moratorium on new mining projects," he said.
Cimatu seems to prioritize the country's problem on illegal mining as he plans to form a task force composed of former military officers to help him combat illegitimate operations in several mining sites.
"That's the only way that it would work because you will be going against a lot of established people. They really need the force. For sure there will be politicians involved. And those illegal miners are also armed," he said.
"That's why Gina was hesitant to touch it because it's not her thing. She doesn't like violence so she resorted to the easy targets which are the large scale and legal ones," Recidoro added.
It can be recalled that President Duterte wanted to tax the industry "to death" but CMP maintained that it is the illegal miners, who take up half of the country's gold production and fail to give a fair share of revenues to the state, who should be held responsible.
"Duterte is really frustrated by the number of illegal mining operations in the country but he really depends on his senior minister to address the problem. He got Gina because she felt she is a crusader but Gina only went against the large scale legitimate mines but did nothing on illegal mining," he said.
The industry hopes Cimatu will soon develop a more detailed plan for mining to allow the sector to move forward.
"We would rather do this right. We realized we need to give the Secretary the time to appreciate the industry for him to be able to craft his policies and vision for the industry," Recidoro said.
"He knows very well that we are well-endowed in terms of minerals, he just needs to reconcile that fact with responsible mining, that it can really be done in the country and that he can do something about it," he added.
New investments on hold
Despite Lopez's replacement, there has been no new major mining company in the country the past year.
"They are staying away for now mainly because of the policy uncertainties plus global demand has been very weak. Prices are slightly increasing but China is starting to shift from being a manufacturing hub to being more of a consumer," Recidoro said.
Global projections showed that China, the country's major market for metals, continues to have a weak demand and there has been no dramatic increase in requirement from another importer, Japan, coupled with an expected worsening of world market prices next year.
"We can't do anything about the price, we are just mere price takers. So the only thing that we can do is adjust our cost of production or increase our volume," he said.
The chamber noted that investors are moving to other ASEAN countries particularly Myanmar, Vietnam and Indonesia.
"They are all there because Myanmar and the others have very accommodating government, they are pro-business and they give a lot of incentives so investors will come in," Recidoro said.
"This year, nobody really wants to touch Philippine mining. If only we have something concrete and stable, that would help. If investors see that we are slowly improving, they will likely think that maybe it is time to revisit the Philippines," he added.
While Myanmar has a lot of oil and gemstones, the Philippines remains to be a leader in natural resources especially nickel, gold and copper.
"But the thing is, only a small percentage of the Philippines has been explored. We still have a lot of areas that have yet to be explored," he said.
Double excise tax
While the industry has not seen any progress for the past year, it is now gearing toward facing yet another burden. The government has passed the Tax Reform for Acceleration and Inclusion (TRAIN) bill, which includes a double excise tax for mining.
Under the first package of the tax reform bill, mining firms will be levied four percent from the current two percent.
"Given the passage of TRAIN, which included a new tax regime for the mining industry, the moratorium under Executive Order 79 would become inoperative. We expect the DENR to start accepting and processing new mining applications. Hopefully, this will boost the mining industry," Global Ferronickel Holdings Inc. president Dante Bravo said.
And while this seems to be another blow for the sector, CMP said it is willing to accept the higher tax in the hope it would address most, if not all, of the government's concerns on the industry.
Recidoro is optimistic that once the issues have been addressed, the administration will be open to accommodating more mining projects in the country.
"If the thrust of the Duterte administration is to raise more revenues from taxes, then the mining industry is willing to bite that bullet," he said.
However, Recidoro admitted there would be some companies that would be largely affected by a higher tax. These include nickel mines that are operating in ancestral domains and/or in mineral reservation areas.
"We talked to them and they understand that this is something that we need to do. From our end, we already want to address the issue of the government against us. We feel that while the doubling of the excise tax is a bit heavy, it's something that we can live with," he added.
During the 1980s and 1990s, the tax rate for mining was five percent which led to the plunge of commodity prices.
The industry eventually petitioned the government to lower the tax until it has been able to recover.
'Let the ugly duckling be a swan'
As the mining industry has not fully cleared its name, CMP aims to convince the President that the sector can contribute to the national economy and to his programs particularly his infrastructure push.
"We are the ugly baby, nobody wants to touch the ugly baby. But we can also be a swan and be transformed. It just really takes some work," Recidoro said.
Currently, mining contributes about P1.8 billion in taxes annually.
"For as long as the government will not keep on changing its policies in the next 10 to 15 years, it's a go for investors. That's what investors are telling us, it's not really the tax rate, it's more of stability of policies," he said.
Allowing the industry to grow would mean accepting open pit mining method, he said.
"We just have to assure that it will be done properly, with the right environmental protection measures in place and proper consultation with the communities," Recidoro said.
"The President just needs to see that there is change happening in the area of self-discipline and standards," he added.
A much better 2018
The Mines and Geosciences Bureau (MGB) generally believes that the improvements this year will continue in 2018.
"We had a very good relationship with the mining industry players. There are agreements now and they are more aware of their responsibilities as mining contractors in the government," MGB director Wilfredo Moncano said.
"And I would say that next year would be better than 2017. We expect in increase in production and the resolution of mining issues, " he added.
The MGB is also moving towards lifting the executive order on mining agreements issued by the past administration, considered as an investment dampener for the country.
Moncano said the agency is hopeful that EO 79, which disallows the approval of new mineral agreements until legislation rationalizing existing revenue sharing schemes and mechanisms takes effect, will be resolved next year.
"The mind of the President is not closed, show him that mining is beneficial to the economy, no environmental damage is involved, then the President will change his mind, " Moncano said.
While the mining industry remains in an exhilarating journey, one thing is for sure, it definitely gained indirect allies in Cimatu and the MGB .
As to when exactly will miners transfer to a steadier, calmer pace, no one really knows.