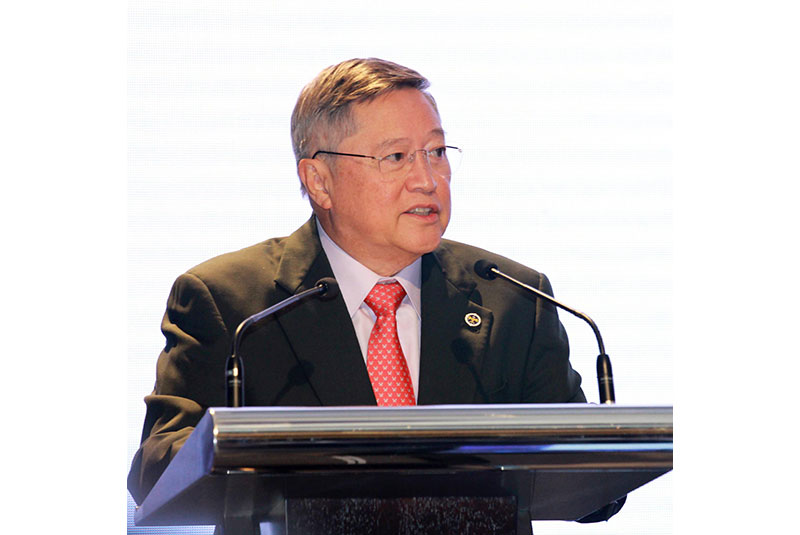 "The year 2017 is an extraordinary one for the BIR, owing largely to this achievement," Finance Secretary Carlos Dominguez said in his speech that was read for him by Finance Assistant Secretary Mark Dennis Joven. File
2017 an extraordinary year for BIR — Dominguez
MANILA, Philippines — The Department of Finance (DOF) said 2017 is an extraordinary year for the Bureau of Internal Revenue (BIR) primarily due to its all out-campaign against major tax evaders.
"The year 2017 is an extraordinary one for the BIR, owing largely to this achievement," Finance Secretary Carlos Dominguez said in his speech that was read for him by Finance Assistant Secretary Mark Dennis Joven.
"The crackdown on Mighty Corp. will have to be credited to the vigilant and unyielding effort of our revenue agencies. I look forward to other accomplishments like this one in the coming months," he said.
Bulacan-based cigarette maker Mighty Corp. offered to settle its tax liabilities for P25 billion and shut down its operations after the BIR filed several complaints for its use of counterfeit tax stamps before the Department of Justice.
It sold its assets to Japan Tobacco Inc. (JTI), enabling the government to collect even more taxes from value added tax (VAT) and other fees, bringing the total haul from the Mighty settlement to about P30 billion.
Moreover, excise tax payments from Mighty's cigarette brands registered an increase of over 200 percent in the September to October period alone since JTI took over the firm's operations.
Despite the achievement, Dominguez has directed the government's top revenue collector to make the process of paying taxes more convenient as he lauded the agency for pursuing reforms that have improved its revenue collections by almost 12 percent this year.
He expects the BIR, through its stepped-up joint efforts with the Bureau of Customs (BOC), to continue running after big-time tax evaders "with hammer and tongs."
"Beyond helping improve revenue collections, the case of Mighty Corp. sends a clear and resounding message to other corporate entities that fudge the numbers and befuddle the books. The revenue agencies will go after them with hammer and tongs," Dominguez said.
Besides this remarkable accomplishment, Dominguez said the BIR also recorded an impressive collection rate of 11.84 percent in the first three quarters, and a goal attainment rate of 96.96 percent by continuing to implement tax administration reforms aimed at broadening the tax base, updating the schedules of zonal values, expanding the options for payment of taxes and simplifying tax forms.
Dominguez said the BIR "must exert every effort not only at making the agency more efficient at what it does. but also making the collection process more convenient for our clients, the taxpayers."
"Paying taxes is painful enough for many of us. Let us minimize inconveniences in the process," he said.
The finance chief earlier directed the BIR and BOC to jointly create regional task forces to unify and beef up their anti-smuggling operations in the provinces.
Dominguez wants both agencies to strengthen their cooperation at the regional level against anti-smuggling activities, considering that most of the illicitly traded goods entering the country are being sold outside Metro Manila.