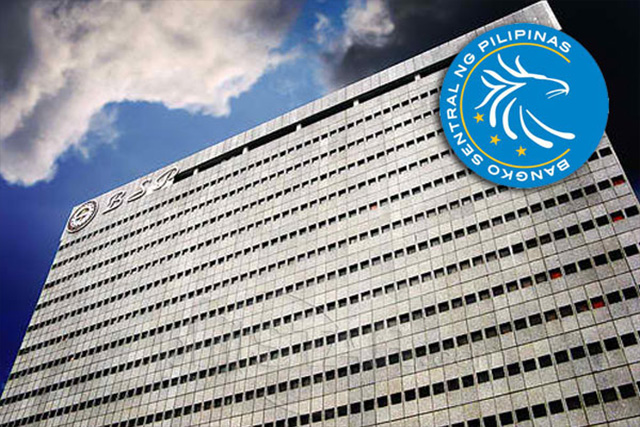 Domestic liquidity or M3, which is the broadest measure of money in an economy, grew by 14.0 percent that month to reach about P10.4 trillion, the central bank said in a statement. File
Liquidity, credit growth slow down in November
(philstar.com) - December 29, 2017 - 5:33pm
MANILA, Philippines — Less money circulated in the economy in November while lending expanded at a slower rate, the Bangko Sentral ng Pilipinas reported on Friday.
Domestic liquidity or M3, which is the broadest measure of money in an economy, grew by 14.0 percent that month to reach about P10.4 trillion, the central bank said in a statement.
That was slower than the 14.8-percent expansion in the previous month.
On a month-on-month seasonally-adjusted basis, M3 increased by 0.3 percent.
"The growth in M3 remains broadly consistent with the BSP's prevailing outlook for inflation and economic activity," the central bank said.
"The BSP will continue to monitor monetary conditions closely to ensure that domestic liquidity stays adequate to support price and financial stability," it added.
Domestic claims grew by 14.7 percent last month, lower than the 15.2 percent increase in October as growth in credit to the private sector eased to 16.0 percent from 16.5 percent.
Similarly, net foreign assets in peso terms grew by 1.9 percent year-on-year in November from 6.1 percent in the previous month.
Credit growth slips
Banks handed out fewer loans in November as credit grew at a slower rate, the BSP said in a separate statement also on Friday.
Bank lending growth decelerated to 19.2 percent in November from 19.9 percent in October.
Computed to include reverse repurchase deals entered into by the banks, total lending grew by 18.3 percent in November, against 18.0 percent a month prior.
Loans for production activities grew albeit at a slower rate of 18.5 percent in November from 18.7 percent in October, the central bank said.
Looking ahead, the BSP said it will continue to ensure that the expansion in domestic credit and liquidity conditions proceeds in line with overall economic growth.