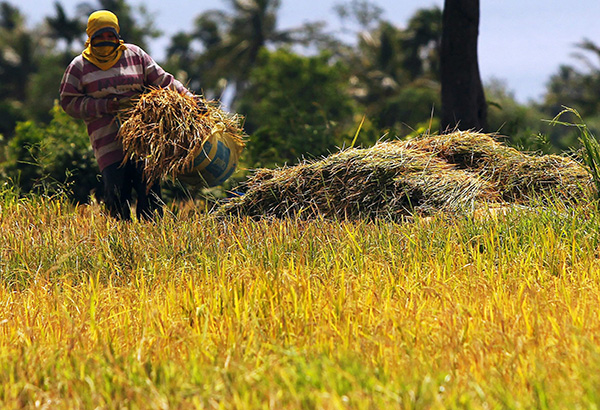 An updated report from the DA showed agricultural damage amounted to P1 billion covering 38,973 hectares of agricultural areas in the Bicol Region, Eastern and Central Visayas, and Caraga with estimated volume of production loss at 23,829 metric tons (MT). File
Agri sector reels from P1-B typhoon damage
(The Philippine Star) - December 23, 2017 - 4:00pm
MANILA, Philippines — The cost of damage to agriculture in areas affected by tropical depression Urduja has reached P1 billion, with the crops sector sustaining the most damage, the Department of Agriculture (DA) said.
An updated report from the DA showed agricultural damage amounted to P1 billion covering 38,973 hectares of agricultural areas in the Bicol Region, Eastern and Central Visayas, and Caraga with estimated volume of production loss at 23,829 metric tons (MT).
"Significant increase in damage and losses have been reported in rice and high value crops. Most affected rice plantings are in sowing, seedling, newly transplanted and vegetative stages," said Christopher Morales, DA-Field Programs Operational Planning Division chief.
Rice still contributed the largest share of losses at 53 percent or P533 million covering 34,371 hectares equivalent to 11.8 percent of the total standing crop of 291,746 hectares.
There were also significant losses in the high value crops, particularly vegetables in Eastern Visayas. Current damage is now at P411 million or 41 percent of the total production losses.
"The assorted vegetables are mostly on their maturity to harvestable stage while most bananas and sweet potatoes are on their reproductive to harvestable stage," Morales said.
Corn also accounted for 1.3 percent of losses at P13.1 million affecting 2,342 hectares, majority of which are in its seedling to vegetative stage. As for cassava, 216 hectares were affected amounting to about P6.05 million.
In terms of livestock, the damage is now estimated at P6.65 million which includes 2,325 poultry heads, 351 goats, 363 swines and some carabaos and cattle.
For agri-infrastructure facilities, damage now includes research and experiment stations reported by Eastern Visayas which amounts to P38.3 million.
Meanwhile, the DA is still monitoring the agriculture damage brought by the new typhoon Vinta that hit Eastern Visayas, Caraga and Soccsksargen.