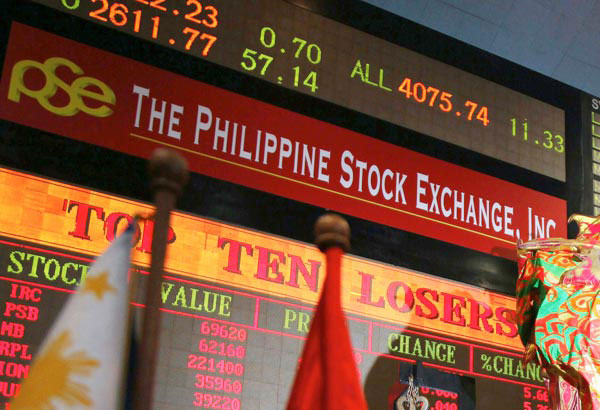 Last week, the benchmark Philippine Stock Exchange index rose 1.97 percent week-on-week to 8,304.70 as investors took last week's decline as an opportunity to bargain hunt on stocks that took a beating. File
Market to test 8,500 level this week
MANILA, Philippines — The stock market recovered last week, pushed by some Christmas rallies in Asian stocks and the upbeat sentiment in Wall Street, which altogether may push the index to as high as the 8,500 levels this week, traders said.
Jonathan Ravelas, chief market strategist at BDO, said the market is indeed poised to try the 8,400 to 8,500 levels.
"Chartwise, the week's close at 8,304.70 highlights some buying support that emerged near the 8,050 to 8,100 levels. With the market closing above the 8,300 levels, the market is poised to try the 8,400 to 8,500 levels," he said.
"Immediate support and resistance is seen at 8,150 and 8,500 levels, respectively," he said.
Last week, the benchmark Philippine Stock Exchange index rose 1.97 percent week-on-week to 8,304.70 as investors took last week's decline as an opportunity to bargain hunt on stocks that took a beating.
Sharing the same view, Chris Mangun, head of research of Eagle Equities said the first trading week of December was positive, marking a reversal from its performance the week before.
"The Industrial sector gained the most, up 3.52 percent for the week, thanks to Universal Robina Corp. and Meralco. The PSEi traded within our parameters that was set last week, it came down and bounced off strong support at 8,080 and then went all the way up to test strong resistance at the 8,300 area," Mangun said.
"Overall, we had a slow trading week. However, I am glad that we held support at 8,080," Mangun said.
Next week would be crucial given that there are only three weeks of trading left in 2017, according to Mangun.
"The market was up almost two percent this week and we may see a slight pullback to relieve some pressure. If support is broken, then we may see the index testing the 8,000 level. However, if we get significant buying pressure next week, we may see the market testing the next resistance at 8,360. I am keeping my supports and resistances the same," Mangun said.