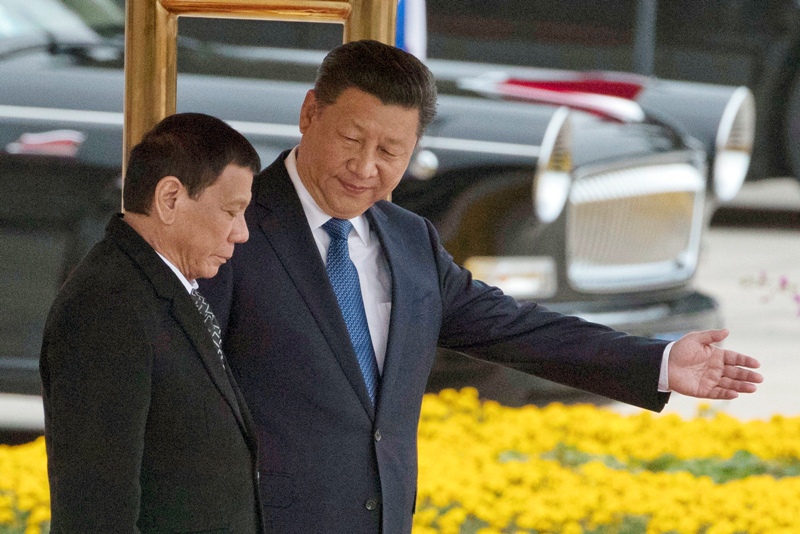 Chinese President Xi Jinping, right, shows the way to Philippine President Rodrigo Duterte during a welcome ceremony outside the Great Hall of the People in Beijing, China, Thursday, Oct. 20, 2016. AP/Ng Han Guan
Philippines becoming more attractive to Chinese firms — report
(philstar.com) - December 7, 2017 - 9:57am
MANILA, Philippines — The Philippines is becoming a more attractive destination for Chinese investments, according to a report by the Economist Intelligence Unit as ties between the two countries that had soured over a maritime dispute continue to improve.
In EIU's report titled "China Going Global Investment Index 2017," the Philippines ranked 29th this year in terms of attractiveness to Chinese firms.
Manila's spot this year was better than 2015 and 2013's 39th place.
The index ranks 60 major economies in terms of their appeal to Chinese investors, drawing on 57 indicators spread across "opportunity" and "risk" pillars.
The Philippines remains a magnet for Chinese investors in the energy, telecommunications, consumer goods sectors, EIU reported.
In terms of financial services, EIU said the Philippines ranked "relatively well," supported by "reasonable low financial risks and decent returns on assets."
Meanwhile, Singapore has overtaken the US as the most attractive destination for Chinese overseas direct investment (ODI), citing the city state's "superior business environment, access to South-east Asian markets and close links with China."
The fall in the US ranking is "partly" attributable to higher trade tensions with China, EIU said.
Philippine President Rodrigo Duterte last May visited Beijing for the second time to attend a summit hosted by his Chinese counterpart to promote the China-sponsored "One Belt, One Road" initiative.
Duterte has sought warmer ties with Beijing by avoiding confrontation with the Asian power and by setting aside Manila's legally won entitlements over the disputed South China Sea, in exchange for billion dollars' worth of Chinese aid and investment.
OBOR aims to revive an ancient silk trading route that would connect Asian markets with economic circles in Europe by investing billions of dollars in infrastructure projects including railways, ports and power grids.
According to EIU, the roll-out of the OBOR has given "additional impetus" for some Chinese companies to venture overseas despite the Asian powerhouse's "dimming" ODI.
RELATED: What's in store for the Philippines as it supports China's new Silk Road