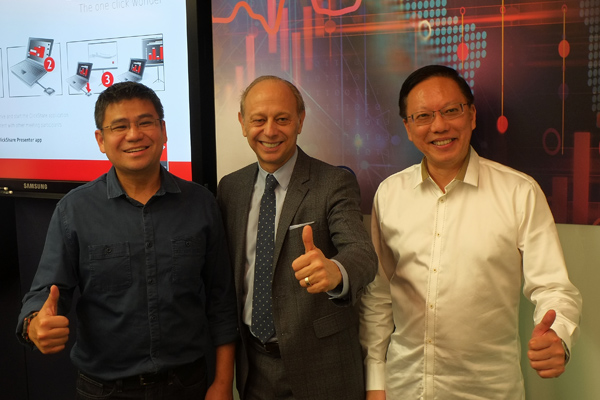 As part of the Allianz Digital Day for 2017, Allianz Asia Pacific invited media outlets from the region to a dialogue with (from left) Robin Loh, chief digital officer, George Sartorel, regional chief executive officer, and Raymond Au, head of data science. Philstar.com/Euden Valdez
How digitization is changing the insurance landscape in Asia Pacific, Philippines
(philstar.com) - December 5, 2017 - 2:09am
SINGAPORE — As one of the oldest industries in the world, insurance is also one of the most traditional, especially with the advent of agents selling bonds, claims, premiums and quotes, among other products.
But a 100-year-old, global insurance company believes that insurance must change with the modern times. Even it must go digital.
And so in its continuous and strengthened digital efforts, Munich-based insurance company Allianz held a digital day on November 13 at its Asia Pacific headquarters in Singapore. There, it revealed its digital products and plans for the region.
Asia Pacific serves as one of the most important markets for Allianz, which operates in 16 countries, including the Philippines, and serves around 21 million customers. The firm has been in the region as early as 1910, with China as its first touch point.
Today, its current businesses include house and home, protecting business, protection on the road, protecting families, green solutions, managing global business risks, optimizing investments, employee benefits solutions and retirement provision.
"Allianz in Asia, we are leading the digital change for the group," said George Sartorel, regional chief executive officer, in opening the Allianz Digital Day. "We understand that change is coming, and it's coming much faster in Asia. So this is where the fun's going to happen."
Digital partnerships
As part of the Allianz Digital Day for 2017, Allianz Asia Pacific invited media outlets from the region to a dialogue with Sartorel, Robin Loh, chief digital officer, and Raymond Au, head of data science.
Asked what is driving the company's digitization, Sartorel answered, "Customers are driving digital. (The) key (to this) is absolutely about customer experience. We must win this battle for unique, convenient even joyful customer experience. So the customer will (also) win. Industries will become more efficient, experience will be better, information will be more transparent. . . and things will be built for their circumstances."
This is where Allianz's Asia Lab comes in. As the digital arm, it leads in developing business and customer solutions in healthcare, mobility and smart city living.
Loh, who heads the Asia Lab, talked about creating digital partnerships within the region.
"To enable our digital partnerships, we have two pillars. One is through data science, and the other one is through API (application programming interface)," said Loh in a separate roundtable with Philippine media representatives.
Data science, he explained, allows Allianz Asia Pacific to assess risks by customer behavior, which is backed by the global company's 130 years of experience. He explained, "What we are doing is that we are using new technologies, new capabilities to drive new insights. So that we can share this to our partners and leverage on that to drive better products and services."
API, on the other hand, allows Allianz to integrate itself in available technologies. Loh cited a partnership with Go-Jek, a ride-hailing app in Indonesia.
To provide healthcare coverage for drivers, it created a product that is seamlessly attached to their Go-Jek app. "(If' I'm a driver,) I don't have to go to the Allianz website to register and log in. I don't have to sign any forms. My app will give me an option to opt in. If I opt in, as long as I drive, the premium will be taken from my earnings."
More importantly, the critical illness protection costs only 17 cents a day per — making it ideal for drivers who cannot afford expensive healthcare coverage.
"If you're online, whether you buy something via e-commerce, or book a trip on a travel site, or even get a car in Uber, you'll need protection. You'll need services, and this is where Allianz can add value by being part of the customer journey," Loh said.
Application in the Philippines
In a local setting, Allianz entered a joint venture with PNB Life, the insurance arm of Philippine National Bank, in 2016. Allianz PNB Life Insurance Inc. officially began operations in January.
Loh said that by working closely together, Allianz PNB Life may soon roll out digital partnerships, tools and solutions to Filipinos customers.
An example is Allianz Discover, an agency tool already present in Thailand, Indonesia and Taiwan. It allows insurance agents to engage with customers through a mobile application. With online and offline capabilities, it allows agents to receive and reply to customer feedback even outside cell coverage area.
Allianz is already looking at exploring a healthcare coverage for Uber and Grab drivers, similar to the Go-Jek product.
Financial inclusion
As one of the lowest in the region, insurance penetration in the Philippines is only at 1.8 percent of the gross domestic product.
For Allianz PNB Life officials Gae Martinez, chief marketing officer, and Rei Abrazaldo, marketing director, who attended the digital day in Singapore, digitization can help Allianz PNB Life tap into more Filipinos.
"A lot of Filipinos are not insured yet," Martinez said. "We are working closely with the data science team of Allianz for us to understand the customer segments of PNB better, for us to be able to offer propositions appropriate for them."
As a 100-year-old company, PNB has a client base dominated by pensioners or investors who are at the market's top segments. They are capable of availing premium insurance products but this is not enough.
Allianz PNB Life aims to reach new and emerging markets like the middle, established families. Regular premiums affordably priced at P15,000 are already available for them.
"Ang vision po ng (The vision of) Allianz PNB Life is to be the preferred partner of Filipino families in their journey towards well-being and prosperity," Martinez said.
And then there are the millennials, who now comprise 50 percent of the population, and soon, a third of the workforce. While they tend to live the life to the fullest, the brand understands that they also need protection.
"We feel that insurance conversation has to change. It's not about insurance protection in case you die. Conversations on insurance are now about living the life. Pursuing your passions and your dreams — and this is what we want to tell millennials," the chief marketing officer explained.
Lastly, Allainz PNB Life does not forget overseas Filipino workers.
Citing studies, Abrazaldo said most Filipinos work abroad to be able to send their children to school and finish college. To help them achieve this dream, the brand will provide educational products that OFWs can invest in.
"At the end of the day, these tools that are being shared by Allianz in the region will definitely help us achieve better financial inclusion among Filipinos," Abrazaldo said.