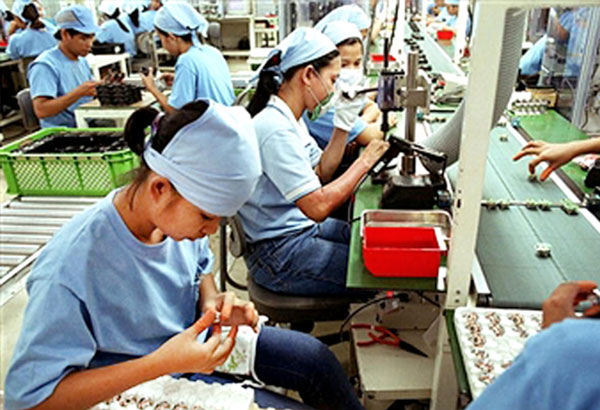 The seasonally adjusted Nikkei Philippines Manufacturing PMI rose to 54.8 last month from October's 53.7, buoyed by expansions in output and new orders. File
Solid domestic demand boosts Philippine manufacturing in November
(philstar.com) - December 1, 2017 - 9:48am
MANILA, Philippines — Solid domestic demand propped up the Philippines' manufacturing sector in November, picking up to the highest level so far this year, the latest reading of the Nikkei Philippines Manufacturing Purchasing Managers' Index shows.
The seasonally adjusted Nikkei Philippines Manufacturing PMI rose to 54.8 last month from October's 53.7, buoyed by expansions in output and new orders.
A reading above 50 indicates economic expansion, while a reading below 50 points toward contraction, Nikkei explained.
Meanwhile, business expectations about future output remained high, with the Future Output Index recovering from a record low in October to a three-month high as companies grew more confident about the outlook, Nikkei reported.
Commenting on the Philippines PMI data, Bernard Aw, principal economist at IHS Markit, said further improvements on business conditions in November helped set the Philippine manufacturing economy on course to end the year with its strongest quarter.
"The PMI's gauge of new order volumes showed the recent expansion in sales accelerating in November, resulting in the largest monthly increase so far this year," Aw said.
"Further rises in purchasing activity and inventories also point to the current expansion continuing and possibly accelerating in December," he added.
"The PMI suggests the strong growth momentum in the Filipino economy has some way to go."
Despite the Philippines' rosy manufacturing sector, Aw said robust economic activity has been marred by rising inflationary pressures, commonly associated with a weak exchange rate.
"As such, higher prices remain an area of concern that policymakers need to watch closely. A further rise in global raw material costs, combined with a weak peso, will generate an unwelcome tightening of businesses' profit margins," he explained.
The peso has emerged as the weakest performing currency in the region, depreciating close to three percent to hit a fresh 11-year low after breaching the 51 to $1 level.
The local currency has since recovered back to the 50 to $1 level.