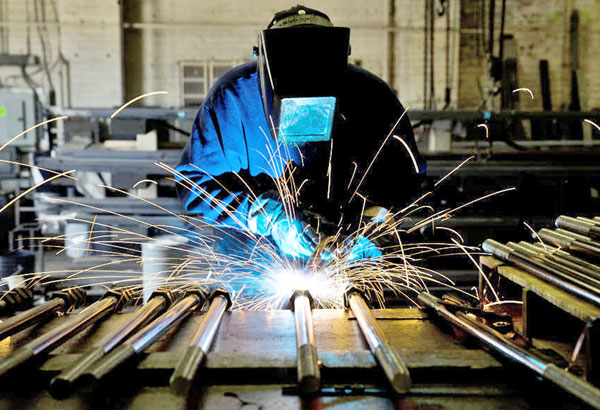 The aggregate value of metal production for January to September this year was higher than the P77 billion recorded in the same period last year. AP, File
Metal production up 6% from Jan-Sept
MANILA, Philippines — Metal production rose six percent to P81 billion in first nine months of the year due to the continued improvement of prices in the world market, the Mines and Geosciences Bureau (MGB) said.
The aggregate value of metal production for January to September this year was higher than the P77 billion recorded in the same period last year.
"The encouraging price gain of base metals was primarily due to the increased metal demand of China. World metal analysts reported that the strong demand of China for said metals were for its infrastructure, automotive, and construction sectors," MGB said.
Gold production accounted for 42 percent of the total production value with aggregate earnings of P33.8 billion, almost the same value as last year.
Gold metal price was slightly lower during the period, hitting $1,251.72 per troy ounce from $1,256.71 a year ago.
Direct shipping nickel ore and mixed nickel-cobalt sulfides took the second spot with P33 billion, up 36 percent year on year.
Nickel direct shipping ore decreased 11 percent to 19 million dry metric tons (DMT) while copper was down 19 percent to 210,428 DMT.
"The performance of nickel continued to be hampered by the standing suspension in the operations of a number of nickel mines, coupled with the non-operation of nickel mines in Dinagat Islands due to care and maintenance status and unfavourable weather conditions," MGB said.
Nickel price increased to $4.49 per pound from $4.17 per pound, while copper price was also up from $2.14 per pound to $2.60 per pound.
Revenues from copper production, which comprise 17 percent of total metal production value, went up five percent to P14 billion.
The production value of silver decreased eight percent to P660 million and was not offset by the increase in prices from $17.05 per troy ounce to $17.17 per troy ounce this year.
The remaining one percent of total metallic production, or P770 million, came from the combined value of silver, iron ore and chromite.
Filminera Mining Corp. in Bicol was the country's major gold producer during the period. For silver, Apex Mining Co. Inc. led the production.
Meanwhile, Carmen Copper Corp. dominated copper production while Taganito Mining Corp. reported the highest output for nickel.
During the period, only seven gold, four copper, one chromite, and 17 nickel mines reported production.