World Bank: More Philippine firms report unfilled vacancies as demand for 'soft skills' rises
November 23, 2017 | 4:26am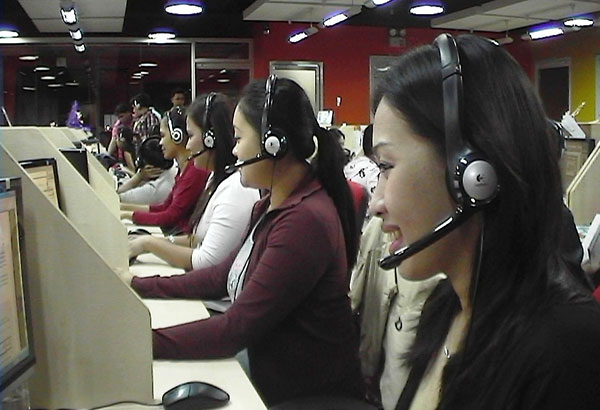 MANILA, Philippines — More Philippine companies have reported inadequate workforce due to lack of qualified candidates, according to a World Bank report that also shows rising demand for workers with enough soft skills despite significant progress in expanding access to education.
The number of Philippine firms with many unfilled vacancies climbed to 30 percent between 2009 and 2015, the World Bank said in its report titled "Developing Socioemotional Skills for the Philippines Labor Market" launched on Thursday.
Increasing dissatisfaction over inadequate skills of workers was highly present among companies in the services sector, the report revealed.
Among companies hiring workers, two-thirds of employers reported difficulty finding employees with enough work ethic or appropriate interpersonal and communications skills.
Most of these missing skills are not forms of academic knowledge or technical acumen but rather socioemotional skills, also known as "non-cognitive skills," "soft skills," or "behavioral skills," the report said.
"Emerging international evidence suggests that socioemotional skills are increasingly crucial to the types of jobs being created by the global economy," the report said.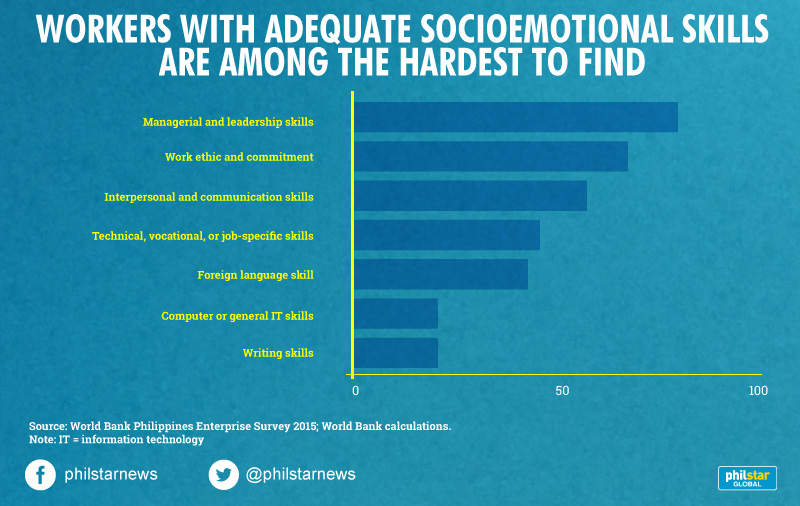 Due to the widening skills gap, the World Bank said companies here are investing heavily in staff training that focuses on socioemotional skills, with the proportion of firms providing such a training doubling in the past six years.
"Sixty percent of Philippine firms report having provided employee training in the past year, well above the average for the Association of Southeast Asian Nations member states," the report said.
"Among firms that report having trouble finding workers with appropriate skills, this share rises to 75 percent," it added
"More firms train their workers in socioemotional skills than in technical skills, underscoring the country's growing socioemotional skills gap."
Socioemotional skills are also associated with especially large income increases for women, young workers, less-educated workers, and those employed in the service sector, the multilateral development lender also said.
'Little attention'
According to the World Bank, more-educated and employed workers in the Philippines tend to score higher on measures of grit, decision making, agreeableness and extraversion.
Higher levels of socioemotional skills are likewise correlated with a greater probability of being hired, having completed secondary education and pursuing tertiary education.
However, the elementary education curriculum in the Philippines at present devotes "little attention" to socioemotional skills, the World Bank found.
The Philippine education system suffers from limited resources as well, it added.
"International experience shows that music, arts, physical education, and health, along with values education, have the greatest impact on socioemotional skills," it said.
"However, the Philippine elementary curriculum allocates only 300 minutes per week to these subjects, significantly less than in neighboring countries," it added.
"Although more time is devoted to these subjects at the secondary level, greater investment at the primary level could increase their effectiveness in developing socioemotional skills."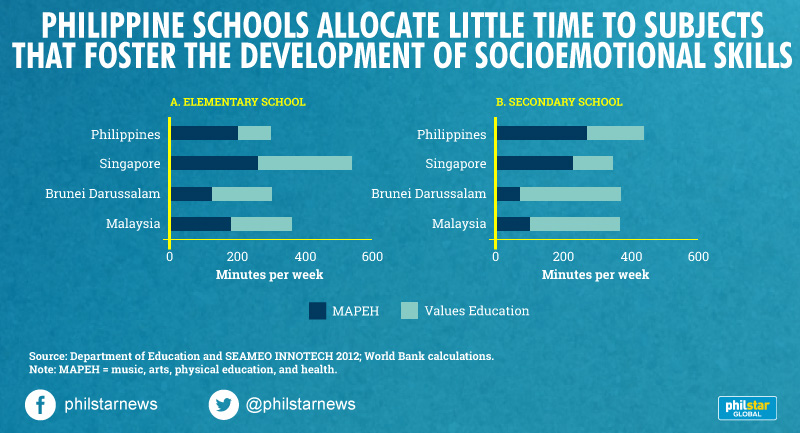 At length, the World Bank said socioemotional skills must be embedded in the curricula in order to build "impressive" reforms that would foster such a skill.
The country must also invest in monitoring and evaluation tools to ensure that socioemotional skills are "constantly assessed to inform policy formulation."