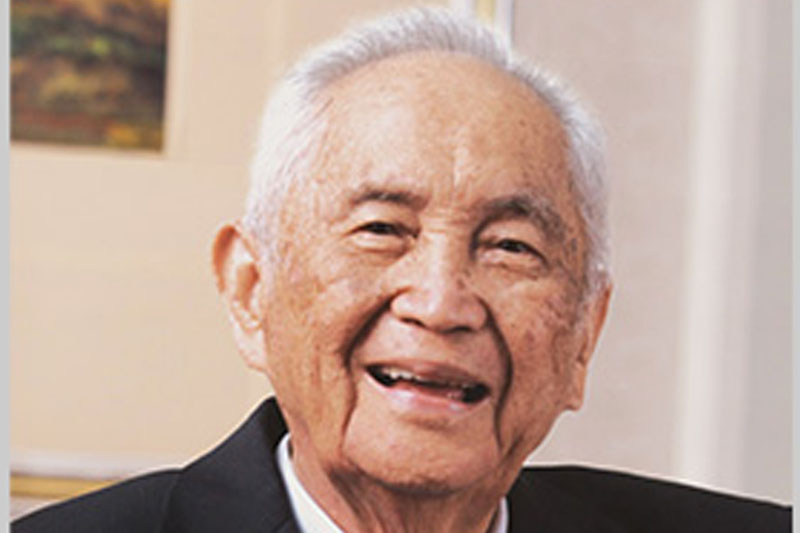 David, hailed as the dean of builders and who founded construction company DMCI in 1954, was the country's sixth richest man, with a net worth of $3.68 billion, according to Forbes magazine. DMCI website
Consunjis almost make Forbes' richest Asian families 2017 list
(philstar.com) - November 15, 2017 - 5:44am
MANILA, Philippines — Given the lofty threshold to enter the elite club, the family of late construction tycoon David Consunji failed to join Asia's 50 richest families in 2017 listed by Forbes magazine.
According to Forbes, the Consunjis were among the six wealthy Asian families who have yet to make the ranking but have almost landed on the list.
Other families that came close were the Mehtas of India and the Keswicks of Hong Kong.
For this year's list, Forbes raised its net-worth cutoff for Asian clans to make the list at $5 billion, up from $3.4 billion a year ago.
"Private companies were valued by using financial ratios and other comparisons with similar publicly traded companies," Forbes said.
The Consunji patriarch, hailed as the dean of builders and founder of construction company DMCI in 1954, was the country's sixth richest man, with a net worth of $3.68 billion, according to Forbes' 2017 list of richest people in the Philippines.
Today, DMCI is one of the biggest companies in the Philippines, successfully surviving even in the most difficult periods in history such as the 1997 Asian financial crisis.
The conglomerate has businesses in property, mining, power and water, among others.
With a net worth of $20.1 billion that was up 57 percent in 12 months, the family of Henry Sy, the richest man in the Philippines, climbed to the 9th spot of Asia's billionaires' list from last year's 17th place.
READ: Sys climbs to 9th spot on Forbes' wealthiest Asian clans list
Aside from the Sy family, the Zobel clan, who owns Ayala Corp., also made it to this year's roster with a fortune of $6.13 billion despite slipping to the 43rd spot from last year's 37th place.
Meanwhile, the Aboitiz family, who was ranked as the 39th richest business clan in Asia in 2016, did not make it to this year's list after falling short by small margins.
Overall, the Lees of Samsung Electronics lost the top spot of this year's list to the Ambani family of India, which was the biggest gainer in dollar and percentage terms, according to Forbes.
"Their net worth rose by $19 billion, to $44.8 billion, superseding the Lees of the Samsung empire to claim the No. 1 spot. That perch was always occupied by the South Korean family, which still saw its wealth swell by $11.2 billion," the business magazine said.