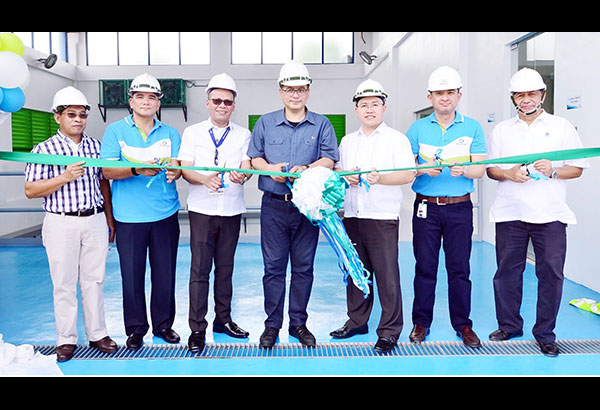 Maynilad president and chief executive officer Ramoncito Fernandez (second from left), MWSS chief regulator Patrick Ty (fifth from left) and Muntinlupa City Rep. Ruffy Biazon (center) cut the ribbon to formally inaugurate Maynilad's Victoria Homes Pump Station and Reservoir in Muntinlupa City. Also in photo are (from left) Victoria Homes Homeowners Association president Jun Evangelista, Muntinlupa deputy city administrator Roger John Smith, Maynilad chief operating officer Randolph Estrellado and D.M. Consunji Inc. senior vice president for Utilities and Plant Strategic Business Unit David Villaviray.
Maynilad completes P248-M Muntinlupa pumping station
MANILA, Philippines — West Zone concessionaire Maynilad Water Services Inc. has completed its P248-million facility in Muntinlupa.
Maynilad recently inaugurated the Victoria Homes Pump Station and Reservoir in Barangay Tunasan which will enhance supply and pressure for about 46,000 customers in the south.
The pump station and reservoir was constructed to bring potable surface water to Maynilad customers in the barangays of Poblacion and Tunasan that used to rely on deep wells for water needs.
Once Maynilad starts operating its new water treatment facility in Barangay Putatan next year, the Victoria Homes Pump Station and Reservoir will be able to provide its served areas with uninterrupted water supply at a pressure of 16 pounds per square inch (psi).
At 16 psi, water supply can reach the third floor of a house or establishment without the need for a pump.
Currently, Maynilad has 28 pumping stations and 32 reservoirs throughout its West concession area, from only seven operational pumping stations in 2006 before the company was re-privatized.This year, Maynilad allotted P13.2 billion for its water and wastewater infrastructure projects.
Bulk or about P8.2 billion of this year's capital expenditures went to water infrastructure projects to ensure sufficient water supply and pressure in the West Zone.
The rest of this year's capital outlay has been allocated for water infrastructure projects as well as improvement works in its water treatment plants, construction and upgrade of pumping stations and reservoirs, laying of primary pipelines for water service expansion, and enhancement of common purpose facilities.