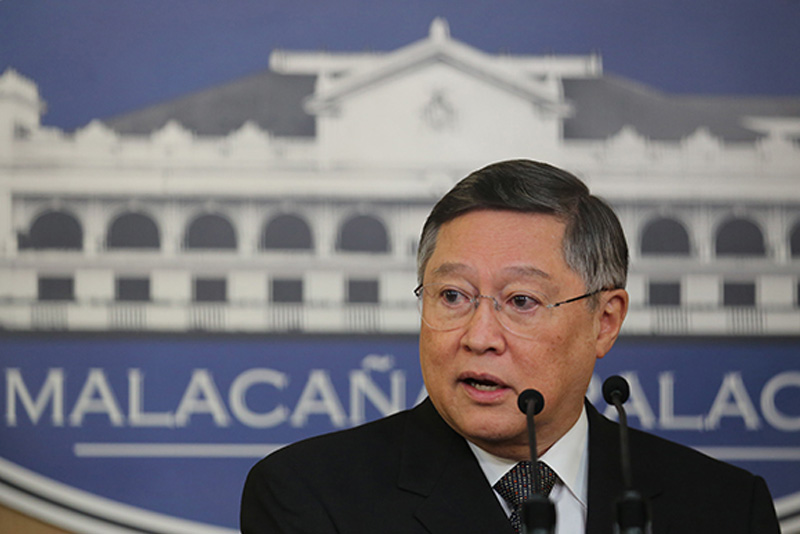 Dominguez gave the assurance despite concerns that the Tax Reform for Acceleration and Inclusion (TRAIN) Act may not yield sufficient revenue to help fund the government's massive infrastructure program. PPD/King Rodriguez, File
Budget deficit ceiling stays — Dominguez
MANILA, Philippines — The government will stick to its budget deficit ceiling, which is set at three percent of the country's gross domestic product, Finance Secretary Carlos Dominguez said yesterday.
Dominguez gave the assurance despite concerns that the Tax Reform for Acceleration and Inclusion (TRAIN) Act may not yield sufficient revenue to help fund the government's massive infrastructure program.
"The Plan B is to stick to the three percent deficit-to-GDP ceiling. That is a hard number, we cannot afford to go beyond that," he said.
The finance chief said he is confident Congress would be able to come up with a final tax reform bill with an adequate revenue impact.
Under the original proposal of the DOF, the tax reform bill is projected to yield P157 billion in additional revenue for the government in the first year of its implementation.
The House version of the bill has a net revenue impact of P133.8 billion, while the Senate version has P59.9 billion.
"We are happy with the House version. There is a Senate version, which has not been voted on, it will be voted on in about three weeks time, and then it will definitely go to the bicameral committee," Dominguez said.
"Hopefully the bicam will yield revenue that will allow the country to achieve what it really wants and that is embodied in the Ambisyon Natin 2014," he said.
The TRAIN Act, which contains the first package of the Comprehensive Tax Reform Program, aims to simplify the country's tax system by lowering personal income tax rates. It also seeks to adjust excise taxes of fuel and automobile and expand the tax base by removing value-added tax exemptions.
According to Dominguez, the government's massive investments in education, training and research, as well as health care and other social services, would be partly supported by the TRAIN.
Earlier, Budget Secretary Benjamin Diokno said the TRAIN as well as the government's expansionary fiscal policy is expected to provide P500 billion in additional fiscal space for the country. "That's additional spending power," he said.