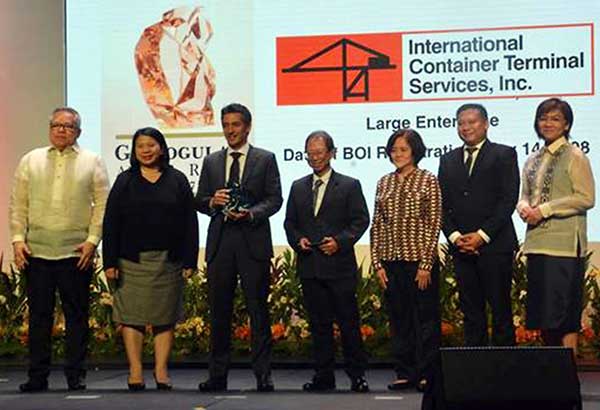 ICTSI CITED FOR ECONOMIC CONTRIBUTION: Board of Investments presents to International Container Terminal Services Inc. the 2017 Guinogulan Award for Large Enterprises for the latter's significant contribution to the country's economic growth. Photo shows Trade Secretary Ramon Lopez (left), together with Trade Undersecretary Nora Terrado (right), presenting the Guinogulan, a commissioned trophy sculptured by Filipino artist Ramon Orlina, to ICTSI officers led by Christian Gonzalez (third from left), ICTSI senior vice president and head of Asia Pacific region, during the awards' gala at the Philippine International Convention Center, Pasay City. Also in photo are (from left): Mariel Zamora, ICTSI purchasing director; Antonio Coronel, ICTSI Asia Pacific Business Services Inc. general manager; Ma. Theresa Culanay, ICTSI purchasing assistant manager; and Jupiter Kalambakal, ICTSI public relations manager.
ICTSI gets BOI recognition for contribution to economy
MANILA, Philippines — Listed port operator International Container Terminal Services Inc. (ICTSI) was recently recognized by the Board of Investments (BOI) for its significant contribution to economic growth through job creation, as well as the use of new technologies and inclusive business models in operations.
In a statement, ICTSI said it was recently presented the Guinogolan Award for Large Enterprises, an award given to BOI-registered firms that help in driving economic growth through capital infusion, employment generation, introduction of new technologies and innovation, implementation of community relations, economic linkages, and adoption of inclusive business models in their operations.
For the last three decades, ICTSI has a proven track record of exceeding government compliance particularly in contractual commitments in the operations, management and development of the MICT.
"Our MICT success story is what we have replicated in our concessions overseas, and this again would not have been possible without the BOI's support. This public-private partnership at the Port of Manila is something we Filipinos can all be proud of," Christian Gonzalez, ICTSI senior vice president and head of Asia Pacific and MICT, said.
MICT is the ICTSI's flagship base and benchmark in the development of terminals in other countries.
At present, ICTSI has a portfolio of 31 port terminals and projects in 18 countries.
It has a workforce of 10,000 employees worldwide, with 2,000 based in the Philippines.
BOI managing head Ceferino Rodolfo said the award given to ICTSI does not only show the contribution of the company, but also emphasizes the country's positive business environment.
"The award does not only support Philippine global branding but also further highlights the competitive advantages of doing business in the Philippines with the awardees as living proofs and testimonies to the viability and profitability of doing business in the country," he said.