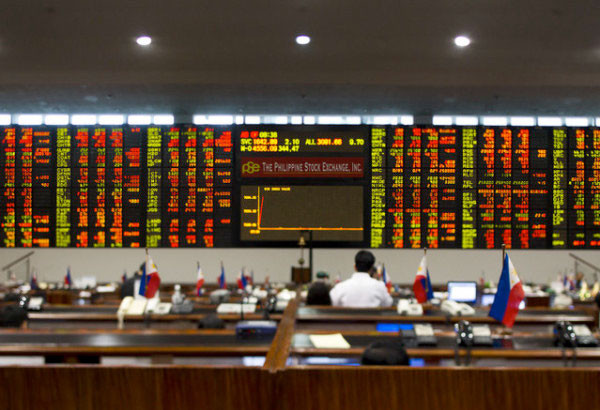 The Philippine Stock Exchange index climbed 49.80 points, or 0.58 percent, to settle at 8,497, paring gains from earlier in the session when it rose to 8,586.73. File
Stocks surge to new record, break past 8,500
MANILA, Philippines — The stock market continued its record run, breaching the 8,500 level for the first time yesterday as investors cheered the recent developments in war-torn Marawi and the record high levels attained by global equities markets, analysts said.
The Philippine Stock Exchange index climbed 49.80 points, or 0.58 percent, to settle at 8,497, paring gains from earlier in the session when it rose to 8,586.73.
The broader All Shares index gained 20.42 points, or 0.41 percent, to finish at 4,958.53.
Most counters ended in negative territory led by mining and oil, industrial, financials and property sectors.
Total value turnover reached P11.7 billion. Declining stocks outnumbered gainers, 121 to 88 while 42 issues were left unchanged.
A confluence of positive developments led by record high levels attained by global stocks as well as the liberation of war-torn Marawi, which for nearly five months had been under attack by militants with links to ISIS terrorists, boosted investor sentiment.
James Lago of PCCI Securities said President Duterte's announcement that Marawi is now free of terrorists was an added catalyst.
Luis Limlingan of Regina Capital said, "the stock market hit a new record once more, along with major US indexes setting the latest in a string of records, as investors looked ahead to key corporate earnings reports that could set the tone for trading and determine whether the lofty levels of the equity market are justified."
Meawhile, global equity markets held close to all-time highs on Tuesday, as investors latched on to rising bets on higher borrowing costs in the U.S. and Britain.
Reports that US President Trump might pick Stanford University economist John Taylor to lead the Fed after Janet Yellen's term ends next year sent two-year Treasury yields to their highest since 2008 and pushed up the dollar.
.Taylor is an advocate of a rules-based approach to interest rate policy that would likely see official Fed rates much higher than at present - at least 3.5 percent according to some economists.
"Fed chairs have often influenced U.S. monetary policy quite considerably in the past. And I would certainly see Taylor as a candidate who would fit in this pattern," Commerzbank analyst Thu Lan Nguyen said.
"That makes one thing clear: should Trump nominate Taylor as Yellen's successor the dollar would initially appreciate notably."
Despite's the dollar's gains, Wall Street stocks set new records again on Monday along with all-time highs on the MSCI's 47-country 'All-World' index.
The MSCI index held close to those levels on Tuesday, shedding around 0.1 percent. – With Reuters