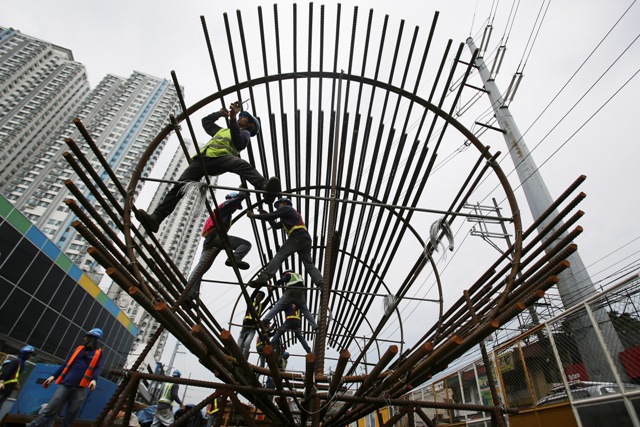 Government expenditure on infrastructure projects amounted to P40.1 billion in August, 18.1 percent higher than the P34 billion in the same period last year, the Department of Budget and Management reported over the weekend. AP/Aaron Favila, File
Infra spending builds up to P40 B Aug
MANILA, Philippines — Government expenditure on infrastructure projects amounted to P40.1 billion in August, 18.1 percent higher than the P34 billion in the same period last year, the Department of Budget and Management (DBM) reported over the weekend.
This brought capital expenditures to P337.6 billion in the first eight months, 11.9 percent higher than the P301.7 billion in the same period last year.
The DBM attributed the growth to the completion of infrastructure projects of the Department of Public Works and Highways, including road improvements, repair and rehabilitation, flood control projects and the improvement or construction of pumping stations, dike and drainage systems.
Disbursements from the Department of Education (DepEd) for the repair and the rehabilitation of school facilities, and the Department of Health (DOH) for the acquisition of land for health facilities and purchase of hospital equipment, also take up a portion of the month's infrastructure expenditures, the DBM said.
In a text message, Budget Undersecretary Laura Pascua said the three agencies registered substantial growth in their disbursements as compared to previous month's level.
"In August, we saw the large growth of the month's disbursements of the DPWH (38 percent), DOH (55.3 percent) and DepEd (12 percent)," Pascua said.
"We think that this is because the agencies are catching up with plans," she said.
Infrastructure projects accounted for the bulk of the government's capital outlays in August, which grew 22.6 percent to P51.6 billion from P42.1 billion a year ago.
Other forms of capital outlays include equities, or investments of the national government in the authorized capital stock of state corporations, and capital transfer to local government units.
According to DBM data, the government did not invest in equities last August, while capital transfers to LGUs rose 41.4 percent to P11.5 billion.
The DBM said spending is expected to accelerate in the fourth quarter as agencies chase the completion of projects before the year ends and ahead of the closing of books.
The agency also said a significant amount of subsidies to government-owned and –controlled corporations is set to be released from September to December, while there is an anticipated increase in the utilization of miscellaneous personnel benefits fund and the pension and gratuity fund for government employees.
Earlier, Budget Secretary Benjamin Diokno said the government is addressing underspending by pushing for reforms to improve the absorption capacity of state agencies.
Among the reforms being pushed is the shift from obligation- to cash-based budgeting and the shift from a two-year validity of appropriations to one year.