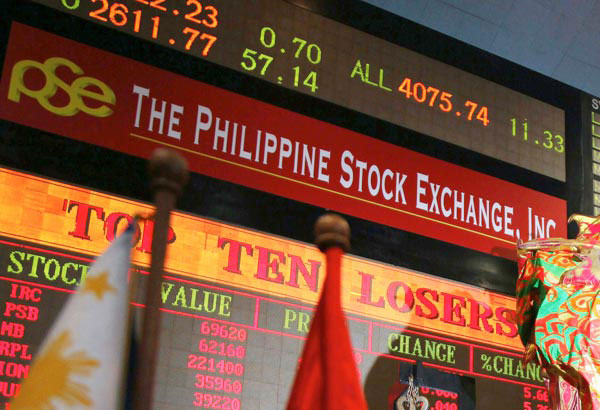 The benchmark Philippine Stock Exchange index (PSEi) declined 50.04 points, or 0.60 percent, to finish at 8,294.01 while the broader All Shares gauge settled at 4,884.65, down 23.19 points, or 0.47 percent. File
Index takes breather as investors take profits
MANILA, Philippines — Share prices took a breather yesterday from a record high achieved on Thursday as investors pocketed some gains from the recent rally, analysts said.
The benchmark Philippine Stock Exchange index (PSEi) declined 50.04 points, or 0.60 percent, to finish at 8,294.01 while the broader All Shares gauge settled at 4,884.65, down 23.19 points, or 0.47 percent.
Total value turnover was slim at P6.76 billion. Market breadth was negative, 106 to 90 in favor of decliners while 50 issues were left unchanged.
The mining and oil counter was the biggest loser, declining by 2.18 percent. The industrial, holding and property counters were also down.
Ron Acoba, chief investment strategist at Trading Edge, said the market mayreach 8,400 to 8,500 next year and toward 8,600 to 9,000 if the positive trend continues.
"By the end of the present year, it's 8,400 to 8,500," he said.
Meanwhile, Asian shares were steady yesterday, taking their cue from strong US data though many markets failed to build on early gains in holiday-thinned trade and due to uncertainty about the impact of recent hurricanes on the US economy.
Japan's Nikkei and Australian shares both ended flat. – With Reuters