Forty-two percent of young Filipinos leave their first jobs after less than one year, a study conducted by American global employment website Monster.com showed. File
Filipinos tend to leave their first jobs within a year – study
(philstar.com) - September 23, 2017 - 1:00am
MANILA, Philippines — Two-thirds of Filipino graduates believe their first job is the most important one they will ever have but almost half end up quitting within 12 months.
According to a study conducted by American global employment website Monster.com, 42 percent of young Filipinos in the work force leave their first jobs after less than one year.
The lack of professional development, the desire to earn more money and the need for more challenging work are the main reasons why fresh graduates do not stick around.
Fresh graduates believe the biggest challenge in their first jobs was their lack of industry knowledge (41 percent), followed by issues with their employers (32 percent) and lack of preparation for "work life" (30 percent).
However, employers believe that young local talents may be expecting too much when it comes to money and compensation.
According to employers, the biggest interview mistakes committed by fresh graduates are focusing too much on money (26 percent), turning up late (24 percent) and not doing sufficient research on the company (24 percent).
Fifty-three percent of employers also said discussion about salary in the initial interview is "unprofessional" as fresh graduates should instead focus on getting better understanding of their roles.
Money is a key concern for fresh graduates, according to Monster.com Managing Director for Asia-Pacific and Middle East Sanjay Modi.
"But young talent would be smart to play down their salary hopes and instead focus on what they can gain from experience in their first job. How can they contribute to the bigger picture, what skills can they learn, and what path might they have to grow?" Modi said.
He also noted that employers must be mindful of fresh graduates' desire for leadership support.
"Fresh graduates are aware that being given the opportunity to expand their responsibilities and competencies can lead to bigger and better-paying roles, which will help employers to retain and develop talent in the long-term," Modi said.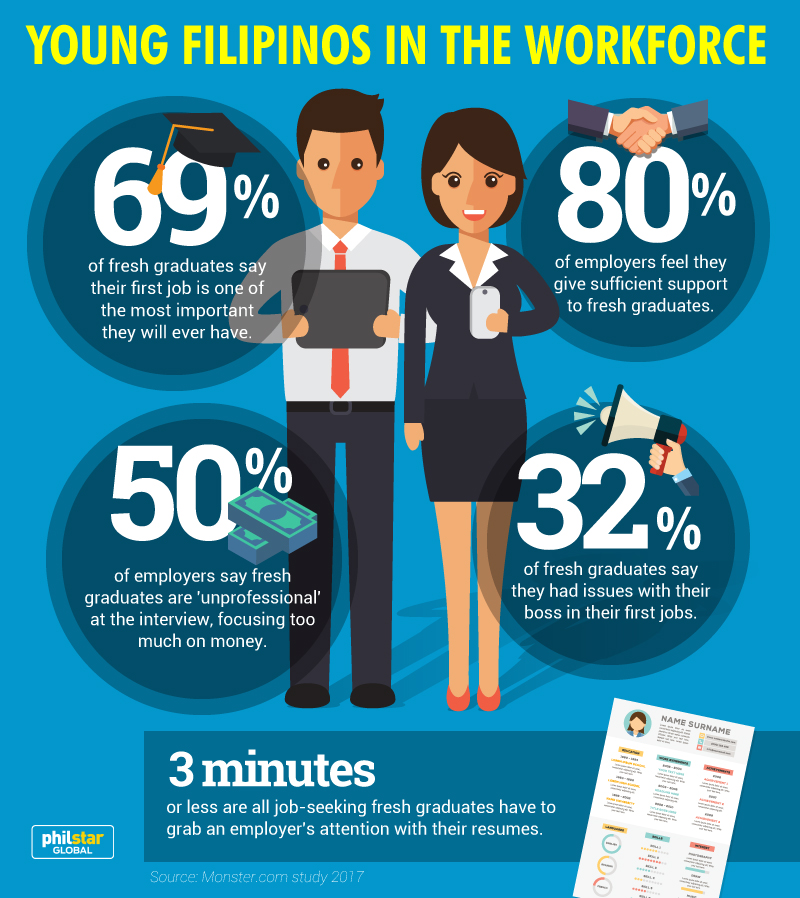 Internships are important for employers too. Fifty-four percent of graduates competed at least one internship before landing their first job, which helped their gain knowledge and experience in their chosen career paths.
Employers also shared that they care most about the job seeker's experience relevant to the role (68 percent), qualifications and education (58 percent) and well-written and easy to read resume (45 percent).
Data from the Philippine Statistics Authority showed that the employment rate as of July was estimated at 94.4 percent.
A total of 1,115 fresh graduates and employers in the country were surveyed for the study.