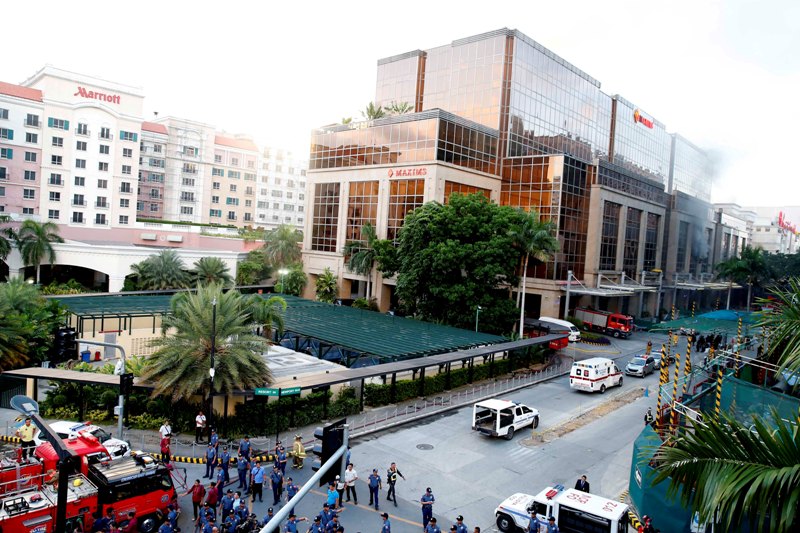 In a briefing yesterday, RWM president Kingson Sian said mall goers and gamblers have returned and foot traffic is now almost back to the level prior to the shooting incident in June which led to the death of 37 people. AP/Bullit Marquez, File
Resorts World back on track
Iris Gonzales
(The Philippine Star) - September 19, 2017 - 4:00pm
MANILA, Philippines — Resorts World Manila (RWM), a joint venture between Andrew Tan's Alliance Global Group and Genting Hong Kong Ltd., has seen a big improvement in its daily average foot traffic.
In a briefing yesterday, RWM president Kingson Sian said mall goers and gamblers have returned and foot traffic is now almost back to the level prior to the shooting incident in June which led to the death of 37 people.
RWM now has roughly 25,000 to 26,000 visitors daily, almost back to 28,000 visitors a day before the incident happened.
On June 2, gambling addict Jessie Javier Carlos stormed Resorts World Manila and started shooting at random and setting a portion of the casino resort on fire.
Soon after the June 2 incident, foot traffic was cut by half to roughly 12,500 visitors a day.
Sian said that while the second floor gaming area remains closed, business has steadily recovered.
The second floor gaming area, with a size of 6,000 square meters, has 100 gaming tables and 100 machines.
To augment the vacuum created by the closure of the second floor gaming area, Resorts World Manila is now working on the phase three expansion which will provide 12,000 square meters of gaming area, Sian said.
"The second floor is not operating anymore that is why we are rushing phase three (expansion)," Sian said.
Phase three expansion will add 650 gaming tables and 1,000 gaming machines.
The target is to open the new wing by the first quarter of next year or have a soft opening as early as the fourth quarter of 2017, Sian said.
There will also be new and rebranded hotels, Sian said. Resorts World's Maxims, which was also affected by the June 2 incident, will be refurbished and rebranded while Remington Hotel will be rebranded as Holiday Inn Express.
RWM's Newport Theater, meanwhile, continues with its shows and is currently hosting a cockfight derby operated by businessman Charlie "Atong" Ang.
Sian said the cockfight derby, which has three runs for the year, has also been boosting RWM's business, with entrance fees at P2,000 per person. Bets run in millions, he said.
He also assured that RWM has tightened and improved its security.
Aside from RWM, Megaworld and Empire East, AGI's businesses also include liquor through the world's largest brandy company Emperador Distilleries, and Golden Arches Development Corp., the master franchise holder of McDonald's in the Philippines.
During AGI's stockholders' meeting yesterday, AGI announced a two-year share repurchase program of up to P5 billion.
"The Board of Alliance Global has approved a share buyback of up to P5 billion over a 24-month period. We are undertaking this corporate action because we believe that our shares are grossly undervalued. Our Group has been consistently profitable, with attractive growth prospects, and enjoys strong brand equity and therefore views this exercise as a means to enhance shareholder value over time," Sian said.