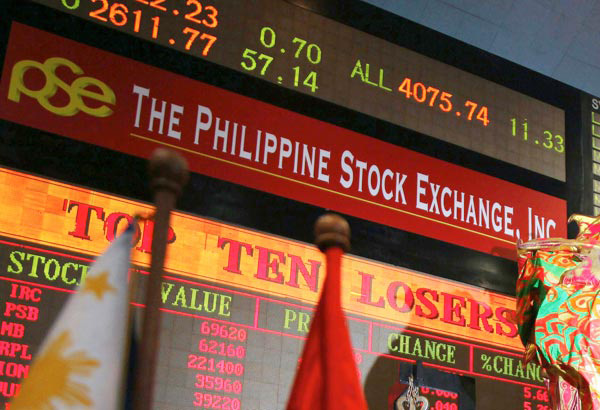 The main-share Philippine Stock Exchange index (PSEi) rallied 91.03 points to touch an all-time high of 8,144.91, and was headed for its third straight session of gains. File
Stocks soar to new all-time high
Iris Gonzales
(The Philippine Star) - September 14, 2017 - 4:00pm
MANILA, Philippines — The stock market soared to a new record high yesterday, cheered by a rally in Wall Street.
The main-share Philippine Stock Exchange index (PSEi) rallied 91.03 points to touch an all-time high of 8,144.91, and was headed for its third straight session of gains.
Yesterday's close was the highest closing level since April 10, 2015 when the index closed at 8,127.48.
Prior to closing, the PSEi also hit a fresh all-time intraday high of 8,169.64 surpassing the previous intraday record of 8,136.97 posted on April 7, 2015.
"The stock market's surge to a record high underpins investor confidence in the local economy and in the Philippine capital markets. The Philippines remains a favorite among emerging markets as it continues to provide attractive returns," PSE president and chief executive officer Ramon Monzon said.
Since the start of the year, the PSEi has gained 19.1 percent.
All counters ended in positive territory, led by the holding firm, mining/oil and property counters. Value turnover amounted to P8.45 billion.
Pepito Gavino of Larrgo Securities said the newly approved infrastructure projects by the National Economic and Development Authority (NEDA) helped boost investor confidence.
"There will be lot of (infrastructure) activities and with the ghost month ending on September 19, there will be more to come," Gavino said, adding that "the only problem is that the market still has jitters on North Korea."
Local investors fueled the market's record rally, while foreign investors were net sellers amounting to P99.8 million.
Heavyweights SM Prime Holdings and SM Investments Corp drove the index, gaining as much as three percent and 2.1 percent, respectively.
"It seems money is now coming back after the ghost month. But the volume is not significant, so it's too early to say that this is sustainable," said Joseph Roxas, president of Manila-based Eagle Equities Inc.
Analysts said China's "ghost season" stalls momentum in the markets as some Chinese investors reduce trading during this period.
"There's an added boost from Wall Street and some investors are also hopeful that the Senate will pass the tax reform measures next month," said Luis Gerardo Limlingan, managing director at Regina Capital Development Corp.
The lower house passed the tax reform bill in May aimed at generating revenue to fund a multi-billion dollar infrastructure program key to the government's economic agenda, but the bill still needs Senate approval.
Morgan Stanley on Wednesday upgraded the Philippines to "overweight", recommending it as the top pick in Southeast Asia, citing earnings growth and tangible action on infrastructure announcements and tax reform. – With Reuters