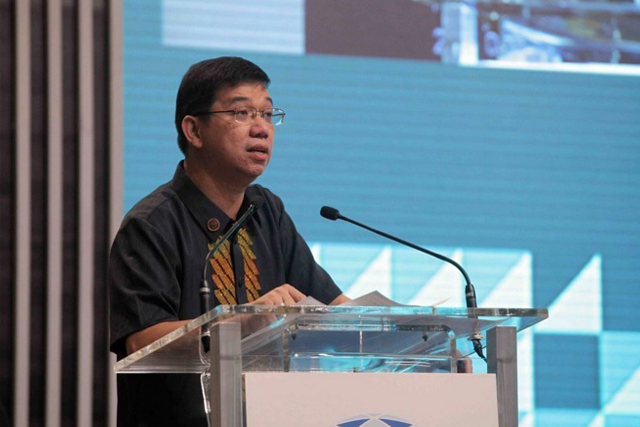 Trade Undersecretary Ceferino Rodolfo and the Philippine lead for the ASEAN Economic Ministers Meeting said ministers have agreed to reduce the non-tariff measures (NTM) by 10 percent by 2020 following an ASEAN Free Trade Area (AFTA) Council meeting in Manila last Thursday. APEC Philippines/Twitter, File
ASEAN trade ministers push for scrapping of non-tariff barriers
(The Philippine Star) - September 8, 2017 - 4:00pm
MANILA, Philippines — With tariffs significantly reduced in the region, trade ministers of the Association of Southeast Asian Nations (ASEAN) are pushing for the elimination of existing non-tariff barriers to lead to improved trade.
Trade Undersecretary Ceferino Rodolfo and the Philippine lead for the ASEAN Economic Ministers Meeting said ministers have agreed to reduce the non-tariff measures (NTM) by 10 percent by 2020 following an ASEAN Free Trade Area (AFTA) Council meeting in Manila last Thursday.
NTMs are policy tools outside ordinary customs tariffs that can potentially have an economic effect on international trade, changing prices and quantities traded.
"It does not automatically mean that an NTM is a non-tariff barrier (NTB). Some of the NTMs are really justified for certain policy considerations. It also depends on how you implement the NTMs," Rodolfo said.
"Permits you need to secure are example of NTMs, but the way you implement them can be classified into an NTB if the implementation is unreasonable," he added.
Rodolfo said the ministers have also agreed during the AFTA Council Meeting on two important measures that will facilitate better trade in the region. These are the operationalization of the ASEAN Single Window and the ASEAN Solutions for Investments, Services and Trade (ASSIST).
"The ASEAN Trade Repository will be our transparency measure. The ASEAN Trade Repository is linking your national trade repository to the ASEAN. We launched the Philippine Trade Repository a few months back so all of your trade regulatory agencies should be able to list specific regulations and specific requirements in your trade repository," he said.
"ASSIST, meanwhile, is an online platform whereby the private sector can lodge complaints if ever they encounter NTMs or NTBs," Rodolfo added.
As far as tariff liberalization is concerned, Trade Secretary and AEM chair Ramon Lopez said significant progress has already been made as 96.01 percent of all tariffs in ASEAN have been eliminated.
Under the ASEAN Trade in Goods Agreement, import duties on 99.2 percent of tariffs in Brunei, Indonesia, Malaysia, Philippines, Singapore and Thailand have been eliminated, according to Lopez.