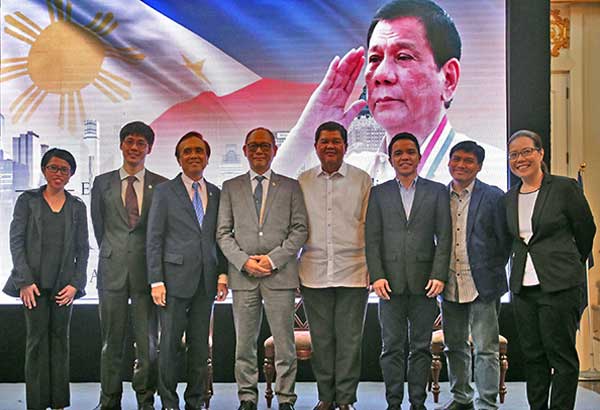 PHL ECONOMIC MANAGERS GRACE EJAP FORUM: The Economic Journalists Association of the Philippines holds a forum on economic gains during President Duterte's first year in office with no less than the administration's economic managers as special guest speakers. In photo are (from left) Karen Lema of Reuters, Finance Undersecretary Karl Kendrick Chua, Socio-economic Planning Secretary Ernesto Pernia, Budget Secretary Benjamin Diokno, Bangko Sentral ng Pilipinas Governor Nestor Espenilla Jr., EJAP president Chino Leyco, BusinessWorld research head Arnold Tenorio and ABS-CBN assignment editor for integrated news Liza Reyes.
Economic team set to roll out capital market reforms by 2019
MANILA, Philippines - The Bangko Sentral ng Pilipinas (BSP) and other government agencies are set to roll out major capital market reforms to deepen the local currency bond market and further liberalize the domestic foreign exchange market by 2019.
BSP Governor Nestor Espenilla Jr. told participants of the Economic Journalists Association of the Philippines a definite game plan to accelerate the development of the local currency debt market was unveiled yesterday.
He pointed out the BSP, Bureau of the Treasury, Securities and Exchange Commission (SEC) as well as the Department of Finance (DOF) have jointly proposed three major operational priorities.
Espenilla said the group is pursuing the deepening of the local bond market by adopting reforms in the government securities eligible dealers system, increasing supply of short-term securities, and developing an effective regulatory framework on derivatives and repurchase or repo markets.
The reforms also calls for the creation of reliable financial benchmarks and valuation of financial instruments as well as the establishment of an integrated financial market infrastructure to promote price discovery, transparency, and orderly trading clearing and settlement of a full range of financial transactions, Espenilla said.
The government intends to complete the roll out of the game plan over a period of 18 months, he said.
"The approach is we have put together a definitive roadmap which was informed by technical assistance from international expertise. We'll put out the roadmap to engage industry, finalize shortly thereafter and implement in phases over the next 18 months after launch today. That's a very definite game plan," Espenilla said.
The reforms, the BSP chief explained, would result in a more robust capital markets as well as a smooth and predictable yield curve.
"In 18 months time, if plans do not miscarry, we should be seeing an active repo market, at least that's our ambition. You want to see also a full yield curve relatively smooth and predictable. We want to see volume already in repo transactions actually happening," he said.
Espenilla said the BSP would make sure that individual players have the capacity to manage risks to avoid financial instability while the Treasury would ensure the improved supply of government securities.
Espenilla, who assumed office last July 3, vowed to continue with the reforms implemented by former BSP governor Amando Tetangco Jr. as he characterized his term over the next six years as "continuity plus, plus."