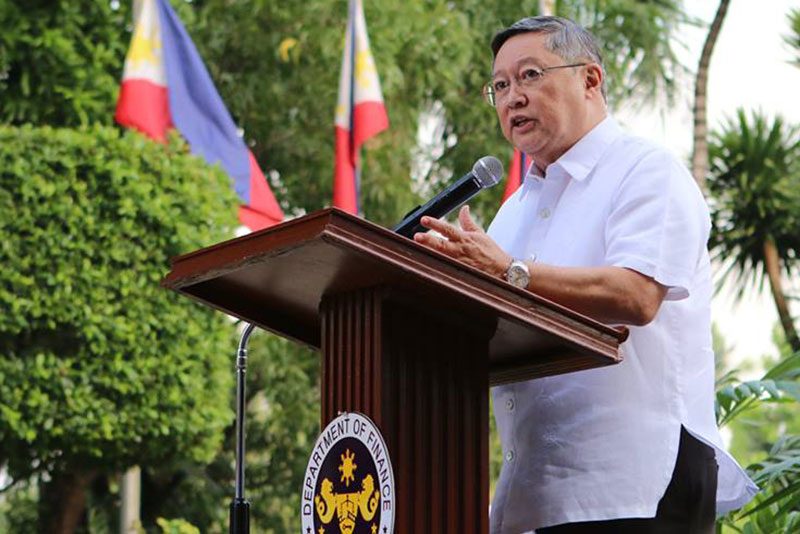 In an interview, Finance Secretary Carlos Dominguez said the DOF has offered to scrap the proposed sugar tax in exchange for the approval of Senate Bill 1408 in its original form, and not just the proposal on the fuel excise tax as reported by Senate ways and means committee chairman Juan Edgardo Angara earlier. DOF/Released, File
Dominguez willing to compromise on sugar tax
MANILA, Philippines - The Department of Finance (DOF) is open to dropping the proposed excise tax on sugar-sweetened beverages as long as legislators pass the tax reform bill in its original form.
In an interview, Finance Secretary Carlos Dominguez said the DOF has offered to scrap the proposed sugar tax in exchange for the approval of Senate Bill 1408 in its original form, and not just the proposal on the fuel excise tax as reported by Senate ways and means committee chairman Juan Edgardo Angara earlier.
"What I told (Senator) Angara was I am willing to drop the sugar tax, but pass the original DOF bill," Dominguez said.
The finance chief explained he is amenable to the exclusion of the sugar tax as it was only included by the House of Representatives to cushion the decrease in expected revenue after it watered down other provisions of the bill.
"The only reason why that sugar (tax) came in, is they took out a lot in the first bill," Dominguez said.
Dominguez said there is no need for now to pass the proposed excise tax on sugar sweetened beverages. But he said it may still be covered in the fifth package of the DOF's Comprehensive Tax Reform Program (CTRP), where it was originally included.
Package five of the CTRP focuses on health, environment and luxury taxation, including the increase in alcohol and tobacco excise tax (after the mandated review on the Sin Tax Reform Law), increase in coal excise tax, and introduction of an environment tax on carbon emissions, among others.
According to estimates from the DOF, Senate Bill 1408, which contains the first CTRP package, is expected to yield the government an additional P103.3 billion in the first year of its implementation, without the measure on sugary beverages.
On the other hand, House Bill 5636 is projected to generate about P68 billion in 2018 without the proposed excise tax on sugar sweetened beverages and other complementary measures.
Meanwhile, Finance Assistant Secretary Ma. Teresa Habitan said milk with no sugar added, such as infant formulas and fresh milk, are not covered by the proposed tax on sugar sweetened beverage.
Habitan said that the approval of the first package of the CTRP remains on track.
"We have been meeting with the Senate even before the session opened so there so there has been a series of hearings with the Senate committee on ways and means," she said.
The first package of the CTRP aims to simplify the country's tax system by lowering personal income tax rates and unifying donor and estate taxes, among others.
To offset the projected revenue loss from the adjustment in the personal income tax, the bill also proposes for the adjustment of fuel and automobile excise taxes and the expansion of the value-added tax based.