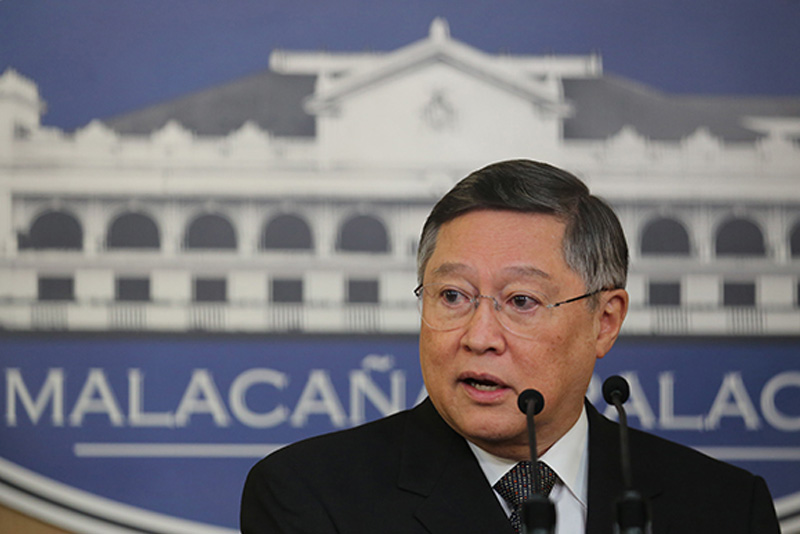 During a House appropriations committee hearing yesterday, Finance Secretary Carlos Dominguez said Manila is firming up talks with Beijing for the funding of three big-ticket infrastructure projects worth P164.9 billion. PPD/King Rodriguez, File
Government seeks P140-B China loans
MANILA, Philippines - The government is seeking P140 billion from China to fund three flagship infrastructure projects, the Department of Finance (DOF) said yesterday.
During a House appropriations committee hearing yesterday, Finance Secretary Carlos Dominguez said Manila is firming up talks with Beijing for the funding of three big-ticket infrastructure projects worth P164.9 billion.
"As we go forward, we will be negotiating for the projects that the Chinese government will fund. Initially, there are three projects that the Chinese government will fund," Dominguez told the House committee.
The projects are the Chico River Pump Irrigation System, (P2.7 billion); the New Centennial Water Source-Kaliwa Dam, (P10.9 billion) and the southern portion of the North to South Railway spanning Manila to Legaspi City (P151.3 billion).
Of the cumulative project cost of P164.9 billion, Dominguez said about P140 billion would be provided by China through loans. The rest will be shouldered by the government.
"The estimated loan amount, which is still for confirmation, is around P140 billion," Dominguez said.
The loan amount will form part of the $9 billion in official development assistance and commercial loans committed by Chinese President Xi Jinping to the Philippines during President Duterte's visit to Beijing in October last year.
According to Dominguez, the Philippine team is also negotiating with their Chinese counterparts an interest rate of lower than two percent per annum for the ODA loans.
"For the loans, we are negotiating at the moment. (We estimate interest rates) at around two percent per annum and we are negotiating for a lower amount than this. That is for the ODA portions," he said.
Meanwhile, Dominguez said the government is also continuing discussions with China regarding the grant committed by the latter for the construction of two bridges across the Pasig River.
These are the Binondo-Intramuros bridge and the Estrella-Pantaleon bridge, which will have a total cost of P5.96 billion combined. These are part of the 12 bridges the Duterte administration is planning to establish spanning Pasig River to address the traffic problem in Metro Manila.
The administration is also seeking the approval of China for the Philippines' maiden issuance of panda bonds or renminbi-denominated securities worth $200 million, Dominguez said.
Dominguez said the issuance would be floated around October or November this year.
"At present, we are negotiating for a loan of $200 million and this will be what is known as panda bond. We are floating for the first time in history a bond in China," Dominguez said.
Dominguez said the offering would test how much the Chinese market would rate the country's debt papers.
Earlier, National Treasurer Rosalia De Leon said the Treasury is only awaiting the approval of the People's Bank of China for the issuance after it secured the nod of the Bangko Sentral ng Pilipinas.