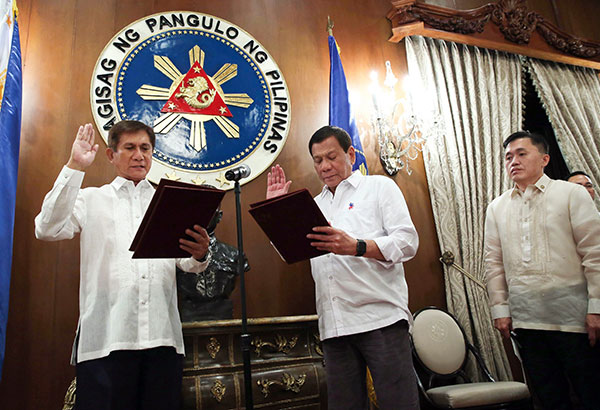 In this May 8, 2017 photo, President Rodrigo Duterte administers the oath of office for the newly appointed Environment Secretary Roy Cimatu prior to the start of the 15th Cabinet Meeting at the State Dining Room in Malacañan Palace on. Also in the photo is Special Assistant to the President Christopher Lawrence Go. Robinson Niñal/Presidential Photo
Open pit mining ban to stay — Cimatu
MANILA, Philippines — The order banning all prospective open-pit mines in the country will still be in effect and will be discussed at the interagency Mining Industry Coordinating Council, Environment Secretary Roy Cimatu said.
"It still stays. This is a policy and we at the DENR (Department of Environment and Natural Resources) implement policies. I brought this up during the MICC meeting and we will be meeting again several weeks from now," Cimatu said on the sidelines of the memorandum of agreement signing between the DENR and the Volunteer Against Crime and Corruption on Monday.
Sought for comments, the Chamber of Mines of the Philippines maintained that it understands this recent decision of Cimatu, saying the open pit ban is a serious policy decision that needs to be studied carefully, with due consideration of all impacts and the interests of all stakeholders.
"We only hope that the matter will be resolved soon to address the uncertainty currently pervading in the industry," COMP Legal and Policy Vice President Ronald Recidoro said in a text message to The STAR.
"We hope that it will be an evidence-based decision that considers current technology. Open pit mining is an accepted practice worldwide that is safer than underground mining. Open pit mines can be fully rehabilitated and transformed for other land uses," he added.
Among the biggest prospective open-pit mines are the over $2-billion Pangilinan-led Silangan mine in Surigao del Norte and the $5.9-billion Tampakan project in South Cotabato, dubbed as potentially the country's biggest foreign investment and believed to be one of the largest gold prospects in the world.
The ban came after Lopez cited several reasons for the ban including its financial and environmental liability; deprivation of economic use of the area; continuing adverse impact on the environment; and its high risk to host communities.
Open-pit is defined as an excavation or cut made on the surface of the ground for the purpose of extracting ore and which is open to the surface for the duration of the mine's life.
The order was issued even if open pit mining is allowed under the Philippine Mining Act. The Constitution even gives the state the duty to explore, develop, and utilize the country's mineral resources.
But, open pits are said to have ended up as perpetual liabilities, causing adverse impacts to the environment, particularly due to the generation of acidic and heavy metal-laden water, erosion of mine waste dumps and vulnerability of tailings dams to geological hazards.
Records show that most of the mining disasters in the country were due to tailings spills associated with open-pit mining.
However, banning of the open pit method may also affect energy supply nationwide, experts said.