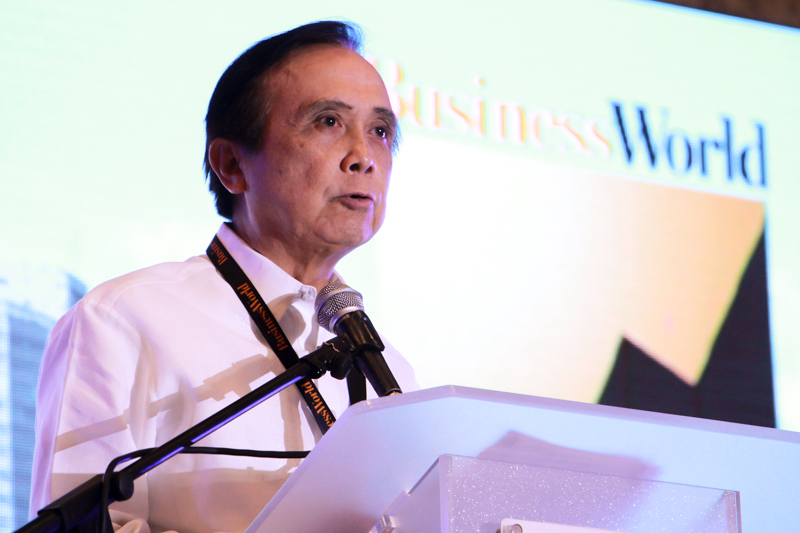 Raising the foreign ownership limit for public utilities, however, requires an amendment of the Public Service Act which prohibits majority ownership by foreign entities in public utilities. Philstar.com/Efigenio Toledo IV, File
Malacañang backs higher foreign ownership in utilities, says Pernia
(The Philippine Star) - July 12, 2017 - 4:00pm
MANILA, Philippines - Amid an ongoing review of the Foreign Investment Negative List (FINL), Socioeconomic Planning Secretary Ernesto Pernia said President Duterte prefers a higher 70 percent foreign ownership cap in public utilities such as telecommunications and water.
Raising the foreign ownership limit for public utilities, however, requires an amendment of the Public Service Act which prohibits majority ownership by foreign entities in public utilities.
A bill is pending in the House of Representatives seeking to amend the statutory definitions of public utility to open industries like telecommunications, transport, power and water to more foreign ownership.
Opening up public utilities to wider foreign ownership, Pernia said, is among the economic reforms expected to be addressed by President Duterte in his upcoming State of the Nation Address (SONA).
"There is a move to revise the Public Service Act so that utilities like telcos can be redefined so that they will not be in the negative list. This is because public utilities are in the negative list," said Pernia.
"The President's preference is up to 70 percent foreign ownership and 30 percent local ownership for utilities," he added.
The government's economic team is currently reviewing the 2017 FINL which Finance Secretary Carlos Dominguez promises to be "very liberal" in the sense that it will provide for the lifting of restrictions on foreign ownership in several industries like finance, mass media, and education and the practices of licensed professions.
He stressed, however, that the liberalization of foreign participation in specific industries would be only be done administratively, meaning the review cannot touch areas requiring legislation.
Pernia said opening public utilities, particularly telecommunications, would benefit from increased foreign ownership.
"I think the focus is on telcos because that's where we are really deficient," he said.
The FINL determines investment areas where foreign participation is prohibited or limited. The list was last updated in 2015.
Meanwhile, the government is targeting to finalize by the middle of August the 11th Foreign Investment Negative List (FINL), identifying sectors that can be opened up to foreign investors, the Department of Finance (DOF) said yesterday.
In an interview Tuesday night, Finance Secretary Carlos Dominguez said economic managers have started in May the review of the foreign investment negative list.
"About by the middle of next month," Dominguez said when asked for their deadline to finalize the review of the list.
The foreign investments negative list contains the areas of economic activity which are open to foreign ownership limited to a maximum of 40 percent of equity capital, as well as those reserved to Filipino nationals.
Amendments to the foreign investment negative list are made not more than once every two years, promulgated through executive orders from the President.
According to Dominguez, the DOF is just awaiting the comments of other economic managers before they can finalize the list.
"We are waiting for the comments of everybody (economic managers), and from there we will move ahead with the revision of that negative list," Dominguez told reporters.
He said the government will have a dialogue with involved stakeholders once the list has already been completed.
The new list to be released by the DOF this year will replace the 10th Regular Foreign Investment Negative List promulgated by former president Benigno Simeon Aquino III through Executive Order 184 in 2015.
Under the 10th version of the list, 11 sectors — including mass media, cooperatives, private security agencies, small-scale mining, and retail trade enterprises with paid-up capital of less than $2.5 million, among others--are only reserved for Filipino investors.
On the other hand, it allows 20 percent foreign equity on private radio communications network, and 25 percent equity on private recruitment agencies, contracts for the construction and repair of locally-funded public works, and contracts for the construction of defense-related structures.
Foreign investors can also own 30 percent of advertising companies, and 40 percent of private land, educational institutions, public utility companies, and firms involved in the exploration, development and utilization of natural resources, among others.