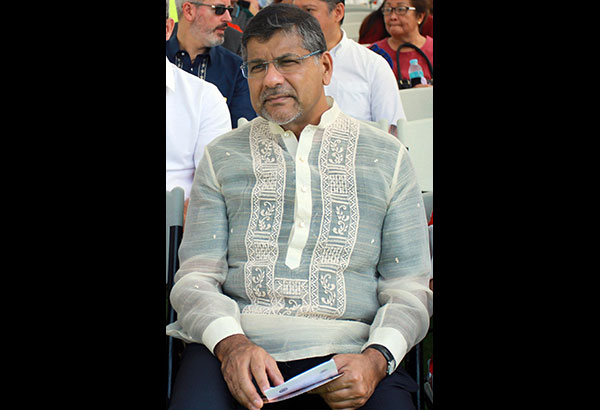 Arms smugglers nabbed through cooperation between US, Philippines authorities
SPYBITS
-
Babe Romualdez
(The Philippine Star) - June 19, 2017 - 4:00pm
Close coordination between the Philippine National Police (PNP) and US agencies that include the Immigration and Customs Enforcement (ICE), Homeland Security Investigations (HSI) as well as the Bureau of Alcohol, Tobacco, Firearms and Explosives had led to the successful arrest of arms smugglers during a buy-bust operation in Makati.
The successful sting operation is not the first time that joint efforts between US and Philippine authorities has led to the apprehension of arms smugglers and the seizure of smuggled items. In fact, a California-based Filipino-American by the name of Marilou Mendoza was very recently sentenced for illegally shipping firearms parts and ammunitions worth hundreds of thousands of dollars to her son using balikbayan boxes.
Sources tell us this was the same woman who, in 2011, sent 15 balikbayan boxes containing assorted gun parts and accessories valued at P7.5 million – but misdeclared the items as assorted household goods and personal effects. Acting on intelligence information provided by US Homeland Security agents, Bureau of Customs operatives seized the boxes consigned to Mark Louie Mendoza – a gun store owner based in La Loma, Manila who has been using his mother's Long Beach residence to have the items delivered but without the requisite export license from the US Department of State.
According to BOC personnel, smugglers are really becoming very creative in plying their lucrative trade. Last year, Customs personnel discovered parts of assault rifles and handguns distributed in boxes containing appliances and toolboxes. Apparently, the gun parts being smuggled "tingi-tingi" or piecemeal are then put together and assembled into pistols and rifles.
The fact is, arms smuggling is also a major concern among our neighbors in Southeast Asia such as Malaysia and Thailand. According to reports, Thai authorities are stepping up patrols along the Malaysian border in response to an increase in arms smuggling activities. Malaysian authorities apprehended six individuals believed to have ties with ISIS (Islamic State of Iraq and Syria) as they were trying to smuggle arms from southern Thailand across the Malaysian border.
Terrorist organizations in fact are utilizing the same route used by criminals to smuggle in firearms as well as drugs, people and even exotic or endangered animals. More likely than not, terrorists are also cooperating with crime syndicates to facilitate their entry into the porous borders of many Southeast Asian nations that include the Philippines by providing fake documents and other "support activities" such as arranging drop off points and providing transport and personnel. Clearly, authorities have to step up efforts to curb arms smuggling because these firearms could end up in the hands of terrorists.
ISIS in Southeast Asia worrisome
Porous borders are providing the ISIS terrorist organization the opportunity to expand across Southeast Asia, and unless governments in the region enhance security cooperation, the long-ago boast of ISIS leader Abu Bakr al-Baghdadi – who was allegedly killed during a Russian airstrike in Raqqa last May 28 – that a caliphate in Southeast Asia had been formed by ISIS could become self fulfilling.
The recent coordinated attacks in Jakarta and the situation in Marawi underscore the expanding tentacles of the terrorist organization in the region, with experts pointing to weak border security being exploited by ISIS to establish "safe havens" in Southeast Asian nations such as the Philippines.
The presence of ISIS fighters in Marawi has raised alarm bells in Washington, with US intelligence officials averring that local terrorist groups had pledged allegiance to the terrorist group. As US Defense Secretary James Mattis rightly said, all must act together to prevent the ISIS threat from spreading across Southeast Asia.
The recent agreement between Malaysia, Indonesia and the Philippines to launch joint patrols – known as the Trilateral Maritime Patrol – in the Sulu Sea is a welcome development and a step towards the right direction as the proximity of Marawi to Indonesia's North Sulawesi (now on full alert) could be exploited by terrorists.
According to Indonesian military officials, the conduct of joint patrols will also help in "maintaining stability in the region in the face of non-traditional threats such as piracy, kidnapping, terrorism and other transnational crimes in regional waters."
British Ambassador leaving
Outgoing British Ambassador Asif Ahmad, who is one of the most well liked in the diplomatic circle, will soon be leaving for his next assignment as High Commissioner to Jamaica.
Buckingham Palace recently announced the appointment of Ambassador Ahmad as a Companion of the Order of St. Michael and St. George – one of the highest forms of recognition by Her Majesty the Queen for service in foreign and Commonwealth affairs.
The Ambassador – who speaks Filipino and has endeared himself to many – oversaw the delivery of UK assistance to victims of Typhoon Yolanda and has worked hard to enhance relations between the Philipines and the United Kingdom, with two-way trade investments reaching record highs during his term, not to mention that the British Embassy has also doubled its size here in the Philippines.
***
Email: spybits08@gmail.com