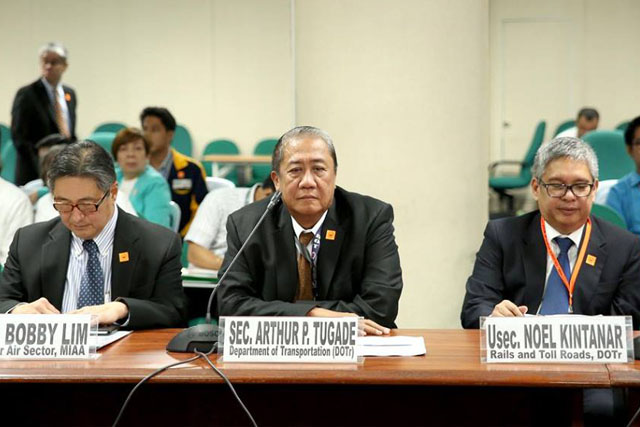 In a statement yesterday, the DOTr said Transport Secretary Arthur Tugade proposed to extend the subway all the way to the NAIA during a meeting with the Japan International Cooperation Agency (JICA). Senate PRIB/Albert Calvelo, File
DOTr plans to extend Mega Manila Subway
MANILA, Philippines - The Department of Transportation (DOTr) is planning to extend the Mega Manila Subway project to the Ninoy Aquino International Airport (NAIA) amid expected growth in passenger volume.
In a statement yesterday, the DOTr said Transport Secretary Arthur Tugade proposed to extend the subway all the way to the NAIA during a meeting with the Japan International Cooperation Agency (JICA).
"I need to have that connectivity. I have a big problem with NAIA because of the projected increase in volume of passengers," Tugade said.
The P227 billion Mega Manila Subway project is a 25-kilometer underground mass transportation system connecting major business districts and government centers.
Its original alignment has 13 stations starting from Mindanao Avenue in Quezon City to FTI in Taguig.
Once completed, the subway is expected to reduce the time it takes to travel from Quezon City to Taguig to just 31 minutes.
It is expected to serve around 370,000 passengers per day in its opening year.
The DOTr's meeting with JICA was held to discuss updates on the feasibility study including timelines, alignment, as well as organizational arrangements for the Mega Manila Subway project.
Apart from proposing to extend the subway until NAIA, Tugade also pushed for the establishment of a training facility for railway operators.
The DOTr said the JICA has given a positive response to the proposed training facility.
Earlier, Tugade said President Duterte and Japanese Prime Minister Shinzo Abe are expected to sign a loan agreement for the Mega Manila Subway project when the latter visits the Philippines in November.
Tugade said he wants the project to be operational before the end of Duterte's term.