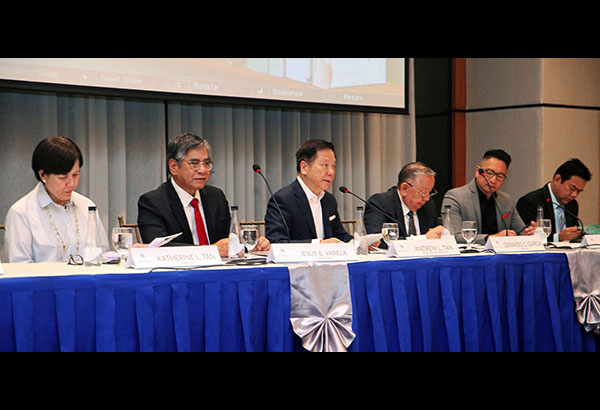 MEGAWORLD STOCKHOLDERS' MEETING: Business tycoon Andrew Tan (center) presides over the annual stockholders' meeting of upscale property developer Megaworld Corp. held yesterday at Eastwood Richmonde Hotel in Quezon City. Tan is chairman and president of the company. Also in photo are (from left) directors Katherine Tan, Jesus Varela, Gerardo Garcia and senior vice president Jericho Go. Joey Viduya
Megaworld to spend P60 B for 2017 projects
MANILA, Philippines - Megaworld Corp. is pouring P60 billion in capital expenditures this year, a ranking official said during the company's annual stockholders meeting yesterday.
Of the P60 billion, Megaworld will spend P48 billion for residential and office projects and P12 billion for land banking, said Jericho Go, senior vice president at Megaworld.
The P60 billion is part of the company's five-year capex plan of P285.8 billion.
This year's capex is higher than 2016's P48.8 billion.
During yesterday's meeting, Go said the company is strengthening its presence in various provinces in Luzon with its aggressive expansion in Pampanga, Cavite, Rizal, Batangas and Laguna.
For the Luzon projects alone, the company is allocating P10 billion in capital spending. The projects include the construction and completion of more residential office, commercial and hotel developments in Twin Lakes near Tagaytay and Southwoods City in Cavite-Laguna as well as for land development in Capital Town in San Fernando, Pampanga and in Eastland Heights in Antipolo, Rizal.
"There is so much opportunity here in Luzon and we believe that after aggressively expanding in the Visayas and Mindanao, it is time to give focus on our Luzon developments. But of course, we will still simultaneously and continuously develop our existing townships all across the country," Go said.
The company announced last week the construction of its 21st township, Capital Town in Pampanga, which would have a cyberpark, mall, museum, leisure parks and shophouse district.
Megaworld grew its net income 11 percent in the first quarter of the year on strong rental income and steady residential revenues.
Consolidated revenues of the Megaworld Group, which include subsidiary brands Global-Estate Resorts Inc. (GERI), Empire East Land Holdings, and Suntrust Properties, amounted to P12 billion during the quarter, up five percent year-on-year.
The company is targeting to launch 20 residential projects with total sales value of P31.2 billion.
These will be in Uptown Bonifacio, McKinley West and McKinley Hill, all in Fort Bonifacio; Iloilo Business Park in Mandurriao, Iloilo City; The Capital Town in the City of San Fernando, Pampanga; Maple Grove in General Trias, Cavite; Eastland Heights in Antipolo, Rizal; Boracay Newcoast in Boracay Island; Sta. Barbara Heights in Iloilo; and Twin Lakes near Tagaytay.