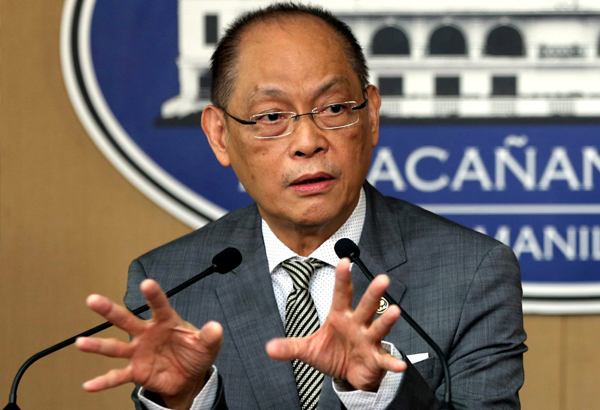 Diokno said that, at any rate, disruption of business in Mindanao is unlikely to affect the country's economic performance. Krizjohn Rosales/File
Diokno: Mindanao martial law could be good for economy
MANILA, Philippines — The declaration of martial law in Mindanao could be "positive" to the country's economic growth if it will improve the peace and order situation in the island, Budget Secretary Benjamin Diokno said.
"The president promised a better, safer, fairer, richer and more beautiful Philippines. He believes peace and order is a precondition to growth," he said in a text message on Wednesday.
"If, by declaring martial law in Mindanao, he improves the likelihood that peace in Mindanao would be achieved, then it is a positive move," Diokno added.
Diokno chairs the inter-agency Development Budget Coordination Committee, which sets the government's macroeconomic targets.
While on official trip in Russia at 10 p.m. on Monday, President Rodrigo Duterte imposed military rule over Mindanao amid clashes between government forces and local terrorist group Maute.
The declaration, which was made despite the military saying the situation had "stabilized" an hour later, will be in effect for 60 days if Congress does not vote to revoke it or if the Supreme Court does not issue an order overturning it within a month. For that to happen, a citizen must file a petition questioning the justifications for martial law.
While other economic managers did not respond to queries, Diokno said disruption of business in Mindanao is unlikely to affect the country's over-all economic performance.
The declaration is "limited in coverage," he said, and only includes Mindanao, which, he said, "contributes less than 20 percent" to the country's gross domestic product (GDP).
The 60-day martial law will run until July and will inevitably impact on the second and third quarter GDP prints.
GDP, which is the sum of all products and services created in an economy, grew 6.4 percent in the first quarter, below market expectations, and marked the slowest since 2015.
At the same time, Diokno reiterated that the public should not worry since the martial law provision under the 1987 Constitution "has many restrictions" not present in the 1973 Charter.
Duterte's proclamation has renewed fears of authoritarianism that marked the martial law era under ousted dictator Ferdinand Marcos, who ruled from 1965 to 1986.
"It is limited to 60 days and subject to recall by Congress voting jointly...," Diokno said.
Duterte's political party PDP-Laban holds a supermajority at the House of Representatives, possibly outnumbering a 24-member Senate. The Senate is led by Senate President Aquilino Pimentel III, who is also president of PDP-Laban.