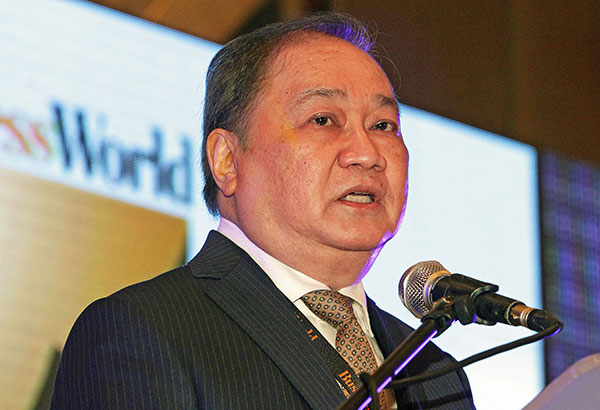 Metro Pacific Investments Corp. chairman Manuel V. Pangilinan speaks during the Business World Economic Forum held yesterday at Shangrila, The Fort. GEREMY PINTOLO
Tax reform, infrastructure development to drive Philippine growth – MVP
MANILA, Philippines - Businessman Manuel V. Pangilinan said yesterday the comprehensive tax reform program (CTRP), infrastructure development, investments, as well as gas in the South China Sea may drive the country's long term economic growth.
Speaking at the BusinessWorld Economic Forum held yesterday, Pangilinan said the CTRP may help drive long term economic growth as it is expected to raise funds needed by the government for its various programs.
The CTRP seeks to lower personal income tax, limit value-added tax exemptions and raise excise tax rates for fuel and automobiles.
"This is more friendly for businesses because it will lower tax rates for corporates. With these changes, CTRP aims to raise requisite funds for infrastructure spend, in part, as well as education, social safety nets and health," Pangilinan said.
Aside from the proposed CTRP, the government's massive infrastructure program is also expected to help the country achieve long term economic growth.
The government has announced it would adopt the hybrid approach on public-private partnership projects to expedite implementation.
Under the hybrid approach, the government will build the projects and later on bid out the operations and maintenance to the private sector.
Pangilinan said the Subic-Clark-Tarlac Expressway (SCTEx) is an example of a hybrid approach, which is a win-win for both the government and the private sector.
The SCTEx was built through a P25 billion loan from the Japan International Cooperation Agency, while its operations and maintenance is being handled by Manila North Tollways Corp.
Pangilinan said the business community, however, has concerns with the hybrid approach.
In particular, he said businesses are concerned on whether there is capacity to execute large infrastructure projects and whether there are enough local contractors with the scale and experience to implement this type of projects.
In addition to capacity, he said businesses are also concerned as some of the projects would be funded by debt which would have to be paid eventually.
Apart from the proposed tax reform and infrastructure development, investments in the tourism and mining industry in rural areas where most poverty exists, would also support economic growth.
Pangilinan said investments in the tourism industry should go side-by-side with the development of airports.
Given the congestion at the Ninoy Aquino International Airport (NAIA) in Manila, he said the Clark International Airport is the only viable option for now.
"NAIA is filling quickly to the brim and a new airport, especially if you are going to reclaim land will take several years," he said.
He said agriculture should likewise be part of the government's long term planning.
As Malampaya is depleting by 2024, he said it is necessary to begin looking for alternative sources of gas now.
He said South China Sea could be an alternative source if there is gas there.
"We have to have some understanding with China. First is to determine if there is indeed commercial gas resource," he said.