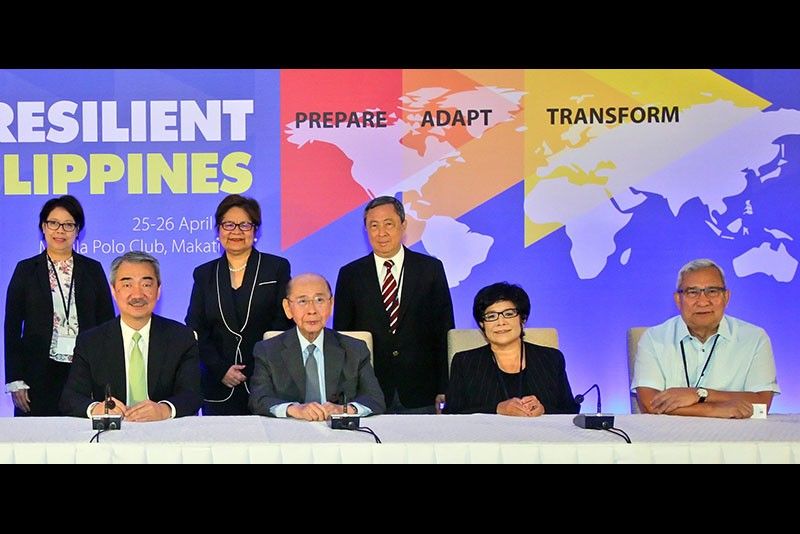 The conference organizers: (seated, from left) are Hans Sy of SM Prime Holdings, Amb. Roberto Romulo of the Carlos P. Romulo Foundation, Toni Yulo-Loyzaga of the Manila Observatory, Ernie Garilao of the Zuellig Family Foundation, (standing, from left) are Liza Silerio of ARISE Philippines, Malu Erni of the Philippine Disaster Resilience Foundation and Dr. Eric Lacanlale.
Consolidating resilience endeavors
FILIPINO WORLD VIEW
-
Roberto R. Romulo
(The Philippine Star) - May 5, 2017 - 12:00am
I begin this column by quoting Mrs. Toni Yulo-Loyzaga, chairperson of the International Advisory Board, Manila Observatory:
The Sendai Framework on Disaster Risk Reduction (SFDRR) identified four priorities: Understanding risk, Strengthening disaster risk governance, Investing in disaster risk reduction for resilience, and Enhancing preparedness for effective response to build back better. Perhaps the biggest contribution of SFDRR is to bring into focus the need for collaboration between government, scientists, civil society and the private sector to accomplish these priorities. The SFDRR goals recognize that socio-economic and ecological sustainability are substantively linked to the exposure and vulnerability of societies to disaster risk."
With the disastrous effects of Typhoon Ondoy in 2009, the government recognized the urgency of having a proactive risk management framework to become more disaster resilient by enacting RA 10121, establishing the National Disaster Risk Reduction Management Council in May 2010. Likewise, the private sector came together and organized the Philippine Disaster Resilience Foundation chaired by Manuel V. Pangilinan, Jaime Augusto Zobel de Ayala and Cardinal Luis Tagle. Then Typhoon Yolanda/Haiyan happened in 2013. There were multiple rehabilitation efforts made by civil society organizations, led by CODE-NGO and PBSP, among others.
ARISE (UNISDR Private Sector Alliance for Disaster Resilient Societies) was launched to support the implementation of SFDRR which was adopted in March 2015 at a UN World Conference in Sendai, Japan. The Philippines joined ARISE in November 2015 under the leadership of Mr. Hans Sy of SM Prime.
While these are clearly commendable initiatives, more often than not, these well-intentioned organizations are moving forward on parallel tracks. It was the intention of the conference on "Building a Disaster Resilient Philippines" held last April 25-26 with the hope of integrating all resilience endeavors on the same track.
During the two-day conference, a consensus was reached that there should be a multi-stakeholder disaster resilient advisory council co-chaired by a private sector CEO and the secretary of defense. By its creation, the participants recommended the redrafting of RA 10121 to turn it into a full-fledged department signifying "unity of command." But participants also took cognizance of the fact that legislation considers issues deliberately at perceived glacial speeds. As Senator Bam Aquino interjected: "Of course, the process of legislation takes some time….mahaba pa po iyan, maganda lang ho dyan is that there's a lot of opportunity to refine the bill further, to improve the bill and to make it truly something that our communities can be part of."
In the meantime, the advisory council can immediately collaborate on partnerships among government, private sector, CSOs and other institutions with clearly defined roles in disaster response, recovery and rehabilitation.
Another point of view was raised by former DND secretary Gilbert Teodoro: "There is only one person: the president of the Philippines, by virtue of his supervisory power over the local government agencies…..he can call Congress anytime…. to a special session to focus only on amendments to the Philippine Disaster Risk Reduction Agency Bill. If not, these things will be swept under the rug by other matters….. . leadership must start at the top."
Other pertinent points were raised for future legislation: provide easier access to DRRM funds by LGUs; increase investment in science and technology as part of an overall DRRM; empower the barangay level to undertake frontline work and coordinate with civil society and community members in DRRM, and amend laws for emergency procurement.
There were further action points cited: applying market-based instruments to retrofit at risk buildings and residences i.e. seismic certified buildings and dwellings as well as a seismic rating system; incorporate DRRM into DepEd curriculum to foster increased awareness among children and their families, and develop metrics for tracking progress in building disaster resilience.
Hopefully, the recommendations are realized soon because the country remains vulnerable to natural disasters. But through multi-stakeholder engagement, improvements can be made at a faster pace so the country can have its much-needed disaster resilient system.