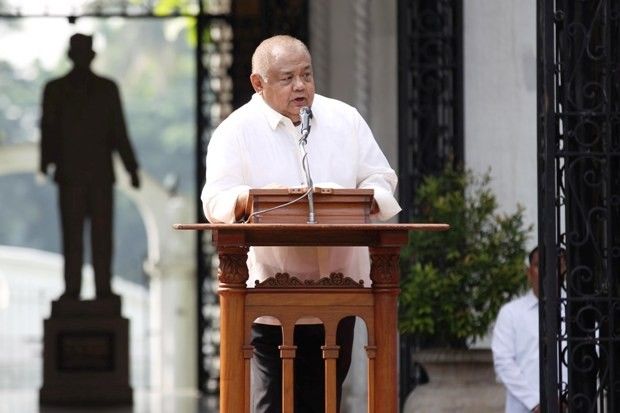 Lopez said Medialdea has overturned her order requiring mining firms to put up a trust fund before they can export ore stockpiles.
Malacañang Photo Bureau/King Rodriguez, file
Lopez questions reversal of trust fund requirement for mining firms
MANILA, Philippines — Environment Secretary Gina Lopez is clashing with another member of the Cabinet after Executive Secretary Salvador Medialdea counteracted her order for mining companies to put up a trust fund before they can remove and export ore stockpiles.
Lopez said Medialdea went against the spirit of President Rodrigo Duterte's thrust of helping the poor when he decided to issue a stay of execution order for the collection of P2 million.
"Medialdea has given a directive to all the mining companies counteracting my order and I'm really not happy about this at all. He has gone against my order and I don't know what he's thinking," Lopez said in a briefing Wednesday.
Lopez has issued a directive requiring each mining firm to open a trust fund account of P2 million for every hectare of exploited land before it would be allowed to remove stockpiles from mining areas and given export permits.
"Medialdea said that they [mining companies] can now remove the stockpiles. He is saying that mining companies can go ahead and take the stockpiles and there's no need to put money for the farmers. Is that even fair?" she said.
"I just want to make sure that when the mine rehabilitation starts, farmers will have their own money. What will happen to the farmers out of the rehab area, who will take care of them? That's my prerogative as [Department of the Environment and Natural Resources] secretary and so why is he going against me?" Lopez added.
'I cannot do anything'
The re-appointed Environment chief said her team has reported that mining companies have now started to freely remove their ore stockpiles without giving any amount, following orders from Medialdea.
"Since I gave the order, my team can stop them [from exporting]. But now that's Medialdea has placed the order, I cannot do anything. He counteracted each and every order in all areas and I can't do anything about it," Lopez said.
Lopez added that she has already texted Special Assistant to the President Bong Go regarding the issue but has yet to receive any response from Duterte.
"My heart resonates with the president because he loves the people so I stand by it. But the Cabinet is made of many people. I don't want to fight but when I'm giving an order to stop and you're going against me, then I will really fight," she said.
"Use the rule and law that will help the people. Why will you choose the law that will stop the mining companies, which are already earning so much, from giving money to the farmers? I don't want to fight the mining industry, I just want to say that they should give money to the farmers," Lopez added.
Mining firms buck trust fund order
Mining stakeholders have been contesting Lopez's decision, saying it has no legal basis, and are already mulling legal cases against her and the DENR over the said order.
They said her directive is contrary to the previously imposed implementing rules and regulations, as the new trust fund is separate from and on top of the existing rehabilitation trust fund set up by the government, as required under the Philippine Mining Act.
"All I'm asking is that you can remove the stockpile since its an environmental standard but just give P2 million for every hectare of farmland you have disadvantaged out of the rehab zone. They are going to make so much money," Lopez said.
Furthermore, Lopez slammed Medialdea for allegedly blocking the reports on suspended and closed mining companies, which are yet to reach the Office of the President.
"The president's not getting it. It gets stuck in one person's office [Medialdea's] and I'm not happy about that at all. Let it go to the president and let him decide. He can't even decide because it does not get to his office," Lopez said.
The Environment chief was referring to the findings on the 23 closed and five other suspended mining companies, which were decided during the conclusion of the industry-wide audit last February.
Duterte has the final say whether these companies will remain closed and suspended or will be allowed to resume operations.