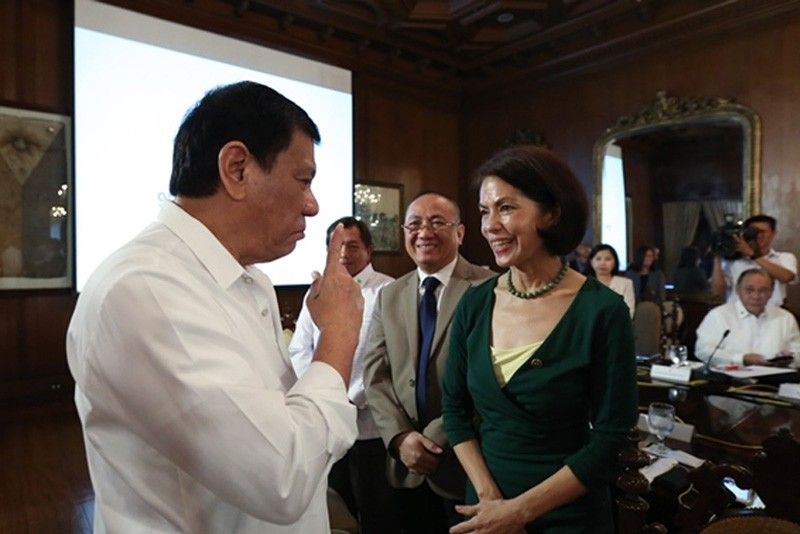 Environment Secretary Gina Lopez was hit by an environmental non-government organization for her "divisive" and "myopic" leadership.
PPD/King Rodriguez
NGO hits Lopez over 'divisive' leadership
MANILA, Philippines — An environmental nongovernmental organization has criticized Department of Environment and Natural Resources (DENR) Secretary Gina Lopez for her "divisive" leadership and failure to approach environmental issues facing the country from a bigger perspective.

The Philippine Business for Environmental Stewardship (PBEST) panned Lopez for what it described as her "divisive leadership" and antagonism and animosity toward some mining stakeholders.

PBEST, an advocate of sustainable development through sound policies and collaboration, said that what Lopez is demonstrating is the failure to go beyond her "single-cause advocacy."

The DENR recently announced the closure and suspension of 28 mines in different parts of the country. This order is feared to cost thousands of jobs and millions of pesos in lost revenues both for the national government and local government units hosting their operations.

Ysan Castillo, the secretary general of PBEST, described as "myopic" the focus of the DENR on large-scale miners and failure to regulate thousands of illegal small-scale operations.

"This is myopic considering the host of other pressing environmental concerns that the country is facing," he said.

He added that good management of the environment requires the participation and cooperation of people and communities, not antagonism and animosity.
PBEST is calling for an inclusive type of governance that involves both the marginalized and those suspected to be destroying the environment.

"We live in one big ecosystem, where everything and everyone is interconnected. We need a type of governance that is inclusive, not just of the marginalized, but of all, including those perceived to be the ones destroying the environment," Castillo said.

Dindo Manhit, PBEST convenor, also criticized the moves of Lopez. He said that what Lopez had done was "a failure to transcend one's single-cause advocacy."

He also scored the DENR chief for failing to look after and unite all the stakeholders for the good of the environment.

"The DENR leadership should be reminded that it is part of this administration, which promised better lives for the Filipino people," Manhit said. "In order to fulfill this commitment, the president pushes for the country's industrialization, and mining cannot be taken away from that equation."