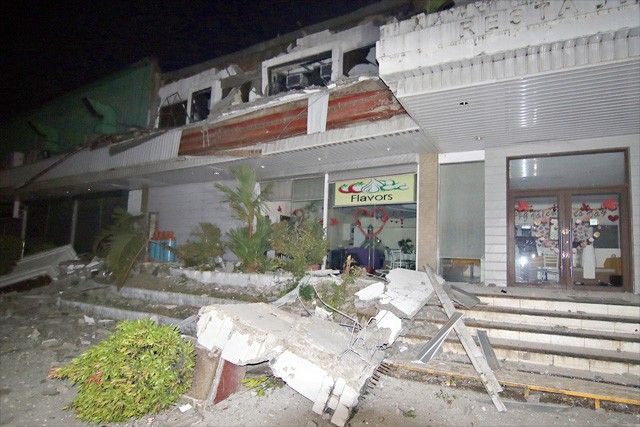 Fallen debris from a business establishment are seen following a powerful nighttime earthquake that rocked Surigao city, Surigao del Norte province Saturday, Feb.11, 2017 in southern Philippines. The late Friday quake roused residents from sleep in Surigao del Norte province, sending hundreds to flee their homes.
AP
DTI reminds retailers, consumers of price freeze in quake-hit Surigao City
MANILA, Philippines (Philippines News Agency) — The Department of Trade and Industry (DTI) has reminded retailers and consumers of the price freeze in Surigao City following the local government unit's declaration of a state of calamity.
In a text message, DTI Secretary Ramon Lopez said there shall be no movement in prices of goods and his office would also be monitoring the situation of supplies of goods in Surigao City.
"Since state of calamity in Surigao City (was declared), we announce price freeze. We'll monitor hoarders," Lopez said.
"We will assess damage to infrastructure for supply of goods if they can affect the supply. Prices should not move," he added.
Under Republic Act 7581 or the Price Act, price freeze on basic necessities shall be automatically implemented in state of calamity areas.
This means prices of basic goods which include canned sardines, processed milk, bottled water, locally manufactured instant noodles, coffee, detergent soap, bread, candles, salt, rice, corn, cooking oil, fresh pork, fresh beef, fresh poultry meat, fresh and dried fish and other marine products, fresh egg, fresh milk, fresh vegetables, fresh fruits, root crops and sugar shall maintain for the next 60 days.
A 15-day price freeze on prices of household liquefied petroleum gas and kerosene shall also be implemented.
The same law penalizes illegal price manipulation such as profiteering, imposing imprisonment of five years up to 15 years and an administrative fine of P5,000 up to P1 million.
On Friday evening, a 6.7 magnitude earthquake hit Surigao del Norte leaving casualties and injuries as well as damaging infrastructures in the area.