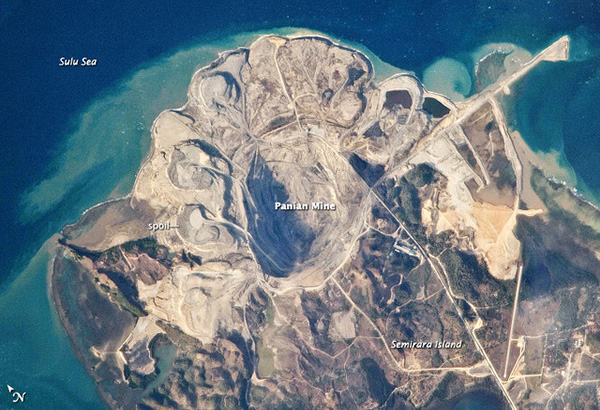 BIGGEST PIT. The Panian Mine operated by Semirara Mining Corp is the biggest open-pit coal mine in the Philippines. Image from NASA
Revenue loss from mine closures seen at P654 M
MANILA, Philippines – The government stands to lose at least P653.64 million in revenues from the possible closure and suspension of 28 mining firms in the country, initial data from the Department of Finance (DOF) showed.
Finance Secretary Carlos Dominguez III said aside from employees, cities and municipalities hosting the mining sites to be shut down or suspended would lose their income as these firms pay large amounts of taxes to their localities.
"For the national (government) it's going to hurt that we're not going to get the mining revenue, but it's not going to be fatal. But in some municipalities, that's the only real income they have," Dominguez told reporters during the induction ceremony of the new officials of the Economic Journalists Association of the Philippines.
To recall, Environment Secretary Gina Lopez last week called for the closure of 23 mining operations and suspension of five others due to violations of environmental standards.
According to preliminary reports of the Bureau of Local Government Finance (BLGF), 10 municipalities and one city would be affected by the Department of Environment and Natural Resources' closure order on 23 mining companies, while one city and four municipalities would be affected by the suspensions.
Initial estimates of the DOF suggest the move of the DENR could result in at least P653.64 million in forgone revenues for the government.
"That's an initial number. We're still putting it all together," Dominguez clarified.
Of this value, P441.92 million are shares of the local government units, while P211.72 million are from mining taxes collected at the national level.
Further breaking down the share of LGUs, P272.24 million would come from those mining sites ordered for suspension, and P169.68 million are contributed by operations for closure.
These figures are based on 2015 data from the local treasurers and the DOF, and excludes the real property tax shares of the provinces and barangays hosting the mining operations.
Meanwhile, Dominguez said the Mining Industry Coordinating Council, which he co-chairs, would study the basis of the decision and its impact to the economy.
The finance chief once again emphasized his concern for the number of people who will be directly and indirectly affected by the mining closures and suspension.
"My concern, and the concern of many members of the Cabinet are the people who might lose their jobs. Because frankly, most of these jobs are in locations where you cannot just go across the street and get another job," he said.
Dominguez said the Department of Social Welfare and Development is already working on a census of all the individuals directly and indirectly affected by the order, while the Departments of Labor and Employment, Trade and Industry and Public Works and Highways are already coming up with emergency programs to absorb the workers to be displaced by the DENR decision.