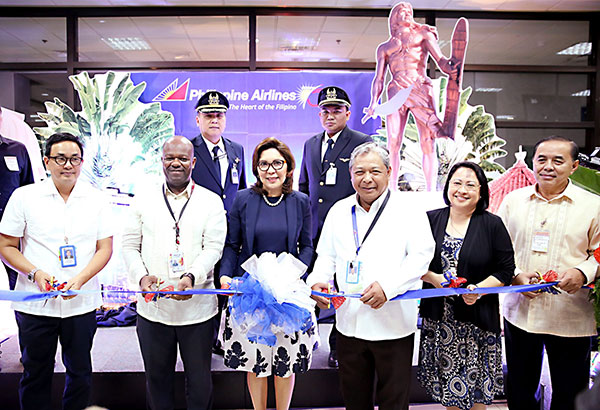 DOT, PAL LAUNCH NEW SINGAPORE-CEBU DIRECT FLIGHTS: The Department of Tourism and Philippine Airlines formally launched the Philippine flag carrier's new direct flights from Singapore to Cebu, a few hours after President Duterte left for Manila following his two-day State Visit to the Lion City. In photo are (from left) PAL SVP for Airline Operations Nicky Gozon, GMCAC chief executive advisor Andrew Harrison, Tourism Secretary Wanda Corazon Teo, PAL president and chief operating officer Jaime Bautista, PAL area head for Visayas Sales Reyani Romano and PAL SVP for Philippine sales Harry Inoferio. Standing behind are captain Dodgie Monteza and first officer Stephen Toring.
DOT, PAL launch direct Cebu-Singapore flights
MANILA, Philippines – Philippine Airlines (PAL), the nation's flag carrier, together with the Department of Tourism (DOT) has formally launched new direct flights between Singapore and Cebu following President Duterte's state visit to the Asian neighbor.
The launching was initiated with PAL PR 518's maiden flight from Changi International Airport to Mactan-Cebu International Airport (MCIA) at 2:45 a.m. Saturday.
According to the DOT, the opening of the new route through PAL is part of the agency's route development program and policy thrust to further develop and utilize secondary gateways in the country.
"The lifeblood of Philippine tourism is connectivity. We are an archipelago and most of the tourists can reach us only by air," Tourism Secretary Wanda Teo said.
"That is why I consider initiatives like this as critical to the continuing development of our tourism market. We are opening more gateways and with it, wider access for visitors," she said.
Teo said the launching of the new flights to and from Singapore is expected to boost Cebu as a tourist destination and international gateway in the Visayas region.
"We now have the chance to make this not only a main tourist attraction, but also a major hub from which travelers can hop to as many of destinations in Visayas as possible," she said.
Philippine Ambassador to Singapore Antonio Morales, for his part, expressed optimism that the flight would further attract Singaporeans to visit the Philippines.
He decribed President Duterte, who just recently visited Singapore, as an "effective" tourism ambassador who has a strong following and appeal to the Singaporean masses.
Data from the DOT showed visitor arrivals from Singapore reached 133,000 during the first nine months of the year, making it the seventh largest source market of the Philippines during the period.
PAL's Singapore-Cebu flights are now available four times a week. Singapore to Cebu flights are available Monday, Tuesday, Thursday and Saturday, while Cebu to Singapore trips are on Sunday, Monday, Wednesday and Friday.
The company earlier announced its discounted roundtrip airfare for Singapore-Cebu flights at $130 (plus $68 travel tax), which can be booked until end-December, and for travel until mid-March next year.
Aside from PAL, Air Asia, Cebu Pacific and Tiger Airways also serve the Singapore-Cebu route. This brings the total flights from MCIA to Singapore to 31.