Elite basketball recreational division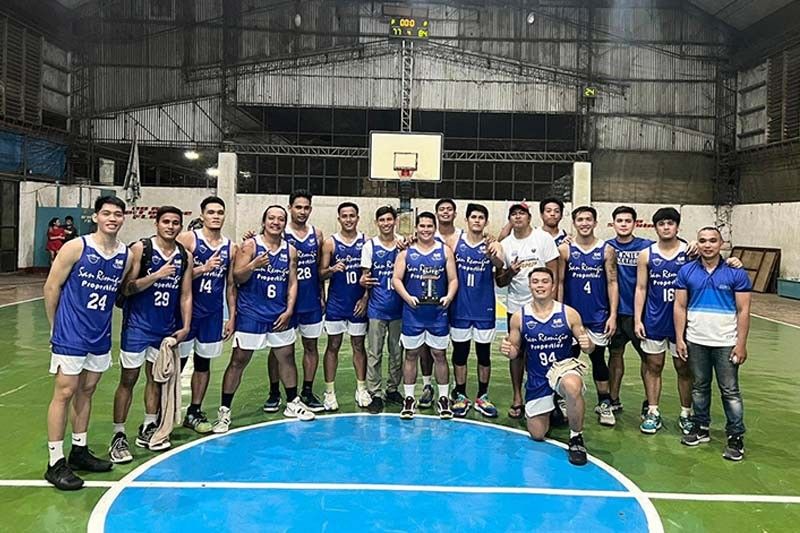 CEBU, Philippines — San Remigio Properties nakampiyon nga way pilde
Gituldokan sa San Remigio Properties ang dalaygon nilang ratsada pinaagi sa pagposte og 84-77 nga kadaoghan batok sa Shetzue's Razor sa kulbahinam nilang final match aron langkaton ang kampiyonato sa Elite Basketball Cebu Recreational Division niadtong Domingo, Marso 19, didto sa Visayan Glass gym sa Barangay Guadalupe, dakabayan sa Sugbu.
Si Emmanuel Villamor mipamatuod nganong siya maoy season Most Valuable Player human mitagak og 32 puntos uban ang unom ka rebounds, tulo ka assists ug tulo ka steals hinungdan nga siya sab maoy gibayaw nga Finals MVP.
Si Marlone Batac miamot og 10 puntos, pito ka rebounds, upat ka assists ug duha ka steals samtang sila si Lyle Sumayang ug Nelson Peralta nagkumboya'g 18 puntos, siyam ka rebounds ug unom ka assists alang sa San Remigio Properties ni coach Randy de la Pisa ug Ralph Jude "RJ" Dinolan nga mibira sa korona bitbit ang perpektong 10-0 rekord.
"In my own humble opinion, achieving basketball excellence requires a mixture of talent, heart, and intelligence. I normally build the team in a way that even if there are only five remaining players on the court, I could still always count on their competitive mentality until the last buzzer of the game. This is how my generation played and this is how San Remigio Properties will always play," buhagay pa ni San Remigio Basketball playing team owner Mark Anthony Ynoc sa iyang Facebook page.
"Sometimes we may not be successful but at least we can give ourselves that opportunity to win. This time, similar to the 82 other championships in 16 years that we've won, we sure did take home the Bacon!" dugang pa ni Ynoc. Sikit kaayo ang duwa nga miresulta ngadto sa dili mominus unom ka pagusab-usab sa labaw. Ang SanRem mi-abante og usa lamang ka lugas human sa tulo ka kuwarter, 61-60, apan nakasugakod sa madasigon nga hagit sa Shetzue's Razor sa naghinapos nga bahin dayon na ngadto sa pagsilyo og siyete puntos nga kalamposan.
"Undefeated! Elite Recreational Division Champs! Unbelievable game. Thank you boys for the heart and efforts you've shown all through out the season," matud pa ni Ynoc.
Si Clark Louis Ruedas maoy nangu sa Shetzue's Razor bitbit ang 17 puntos, upat ka rebounds, tulo ka assists ug duha ka steals. Si Kim Trigue mihipos og 16 puntos, upat ka rebounds, duha ka assists ug duha ka blocks samtang si Rubino Singson dunay 10 puntos, pito ka rebounds, upat ka assists ug duha ka steals sa pilderong kawsa.