Warriors hari sa west, mibalik sa NBA finals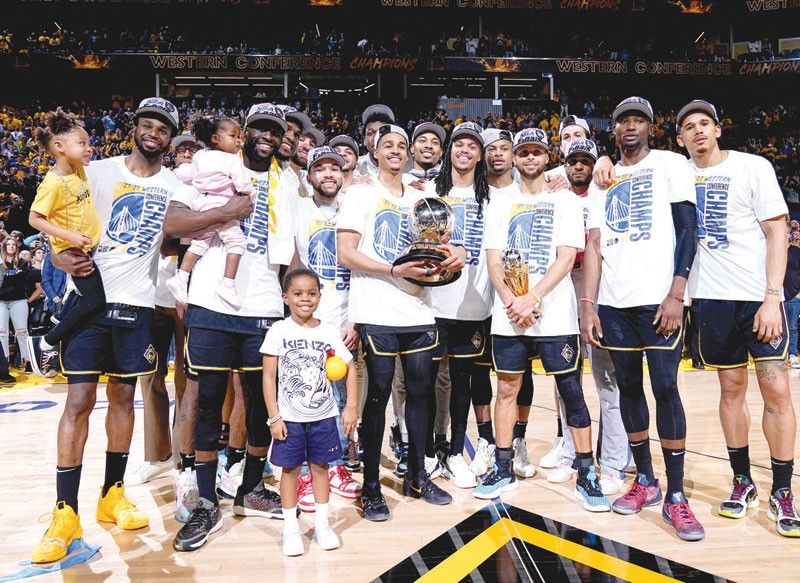 CEBU, Philippines — Si Klay Thompson mipaulbo og 32 puntos sa dihang ang Golden State Warriors mi-abante sa NBA Finals sa ikaunom nga higayon sud sa walo ka seasons human gipatikangkang sa hingpit ang Dallas Mavericks, 120-110, sa Game 5 sa ilang best-of-seven series kagahapon didto sa Chase Center sa San Francisco, California.
Gihuman sa Warriors ang serye sa baraha nga 4-1 aron langkaton ang Western Conference title. Ilang sangkaon sa NBA Finals karong Hunyo ang maghari sa East tali sa Boston Celtics ug Miami Heat.
"To get back again is special for all of us," matud pa ni Warriors coach Steve Kerr. "It's pretty amazing. It's so difficult to get to the finals. It's exhausting, stressful, emotional, all that stuff."
Susama sab ang gibati ni Stephen Curry nga maoy gibayaw nga Finals MVP.
"This is a blessing for us to get back here, to get back where we belong," dason pa ni Curry, nga mitapos uban ang 15 puntos ug siyam ka assists.
Ang Warriors misakmit sa korona sa NBA niadtong 2015, 2017 ug 2018. Sa maong mga higayon, ilang gipilde ang Cleveland Cavaliers nga gipangulohan ni LeBron James. Naparot sila niadtong 2016 ug 2019 finals ug migahin sa miaging duha ka tuig pagpanday sa ilang koponan.
Gawas nilang Curry ug Thompson, misalida sab si Andrew Wiggins bitbit ang 18 puntos ug 10 ka rebounds ug ingon man sila si Draymond Green ug Jordan Poole nga nagkumbinar og 33 puntos.
Wala pay team sa NBA sukad sa Chicago Bulls ubos sa pagangu ni Michael Jordan nga nakadaog og unom ka titulo sud sa walo ka seasons gikan niadtong 1991 ngadto sa 1998.
Buot kining tablahon sa Warriors.
"The common denominator is just talented players who are just fierce competitors," padayag pa ni Kerr. "If you don't have that competitiveness and skill combined, it won't happen six times in eight years."
Sa habig sa Mavericks, napakyas sila pagtaak sa NBA Finals sukad nakampiyon niadtong 2011.
Bisan pa man niini, way gibati nga pagmahay ang alas sa Mavs nga si Luka Doncic, nga mitapos uban ang 28 puntos, siyam ka rebounds ug unom ka assists sa pilderong kawsa.
"We fought until the end. I'm really proud of this team," kanayon pa ni Doncic.