Grizzlies padayong nanginit
January 13, 2022 | 12:00am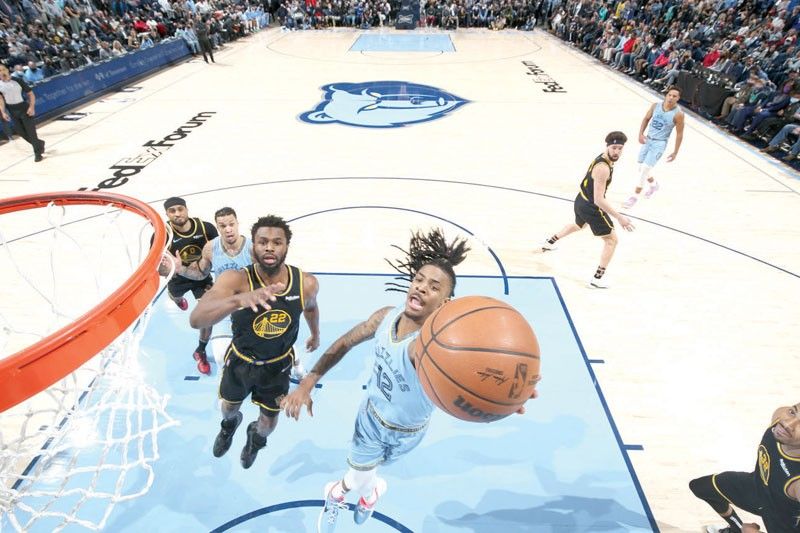 CEBU, Philippines — Mibugha sa Warriors alang sa ika-10 sagunson nga daug.
Si Ja Morant mi-iskor og 29 puntos sa dihang ang nagkayong Memphis Grizzlies miposte sa ika-10 nilang sagunson nga daug human gitumba ang Golden State Warriors, 116-108, sa NBA kagahapon didto sa FedEx Forum sa Memphis, Tennessee.
Mangtas kaayo si Morant nga milansang og singko puntos sa pinal nga minuto sa aksiyon alang sa Grizzlies nga misikit og maayo sa ikaduhang puwesto sa Western Conference standings.
"I felt like I was aggressive. I got going very early. I made them change their scheme up. If you blitz me I feel like I have a lot of guys who can score the basketball," matud pa ni Morant."Pretty much cat and mouse, we just had to take what their defence gave us."
Si Ziaire Williams ug Tyus Jones dunay 17 puntos matag usa alang sa Grizzlies nga gi-abibahan og maayo sa 17,800 nila ka mga fans didto sa ilang korte.
Si Stephen Curry maoy nangu sa Warriors uban ang 27 puntos. Si Klay Thompson mihipos og 14 puntos samtang sila si Andrew Wiggins ug Gary Payton II parehong mirehistro og 13 puntos sa pilderong kawsa.
Wala hinuon makapakita'g aksiyon sa Warriors si Draymond Green gumikan kay dunay gihambin nga angol sa iyang paa.
Didto sa Chicago, si Nikola Vucevic mipupo og 22 puntos samtang si DeMar DeRozan miamot og 20 puntos ug 12 ka rebounds sa dihang gikulata sa Bulls ang Detroit Pistons, 133-87,alang sa ika-10 nilang daug sa miagi nilang 11 ka duwa.
Bagsik kaayo ang Bulls nga misugod sa ikatulong kuwarter pinaagi sa eksplosibong17-0 rally ug sa usa ka higayon naglabaw og 47 puntos nga nakabungog sa Pistons sa nahibiling bahin sa duwa.
Si Lonzo Ball mitampo og18 puntos, si Coby White dunay 13 puntos samtang sila Zach LaVine, Ayo Dosunmu, Alfonzo McKinnie ug Matt Thomas mikimada og 10 puntos matag usa sa balanseng ataki sa Bulls.
Sila si Josh Jackson, Saddiq Bey ug Isaiah Stewart nagkumboya og 41 puntos sa pilderong Pistons.