Doce Pares master, Joeric boxing nag-alyansa
November 28, 2021 | 12:00am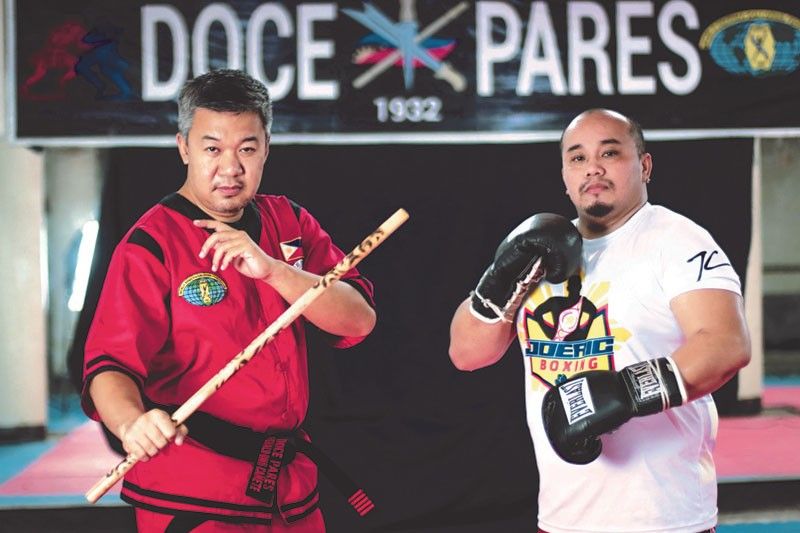 CEBU, Philippines — Nagpuyo sila nga duol ra kaayo sa usa'g usa.
Apan dili ang daw sa kamangon lamang nga distansiya gikan sa tagsa-tagsa nila ka panimalay ang nahimo nilang yawe aron makahulma sila og usa ka bulawanong panaghigalaay nga milanat og kapin usa na ka dekada.
Kini mao ang mainit nilang pagmahal sa combat sports, bisan tuod sa managlahing disiplina.
Ang usa sa natad sa Filipino martial art nga arnis ug ang lain sa kalibutan sa boksing.
Kining duha ka mga batan-on ug napuno sa kadasig nga mga personalidad sa Cebu sports nga dunay susamang panglantaw sa kinabuhi mao sila si Doce Pares Master Gerald Cañete ug ang utok sa Joeric Boxing Club nga si Joeric Calisang.
Karon, andam na silang isaka sa mas taas pang ang-ang ang ilang panag-alyansa.
Uban sa pagtugot ni Cañete, si Calisang naka-angkon og luna sa Doce Pares International Headquarters sa Sto. Nino Village, Barangay Banilad, dakbayan sa Sugbo alang sa iyang Joeric Boxing and Fitness Club nga hinay-hinay na karon niyang gi-establisar ug gipaabot mangabli sa unang kuwarter sa tuig 2022.
"Joeric is a sports lover. He has a kind heart and passion to promote boxing and help local boxers that is why I am very supportive of his plans," matud pa ni Cañete, ang Executive Vice President of the Philippine Eskrima Kali Arnis Federation (PEKAF).
"I like the direction he wants to take for boxing here at Doce Pares. Having known him for quite some time, I see his willingness to help poor but deserving fighters. He has somehow created an impact in the boxing community that is why I yearn to see him grow and succeed someday," dugang pa ni Cañete.
Sa iyang bahin, si Calisang mapasalamaton sa oportunidad nga gihatag kaniya sa sumpay sa pusod niyang amigo.
"Ever since, it's really been the desire of my heart to help aspiring boxers reach their aspirations in life," dason pa ni Calisang, nga nagplanong iapil ang Zumba ug uban pang fitness sessions sa iyang Joeric Boxing sa Doce Pares.
"I may not be a bigtime manager or promoter but I feel a sense of happiness and fulfillment that in my own little way I have guided young dreamers in their journey towards achieving their goals without expecting in return. That is enough for me," panapos pa Calisang.