EDITORYAL - Putin naisyuhan og warrant of arrest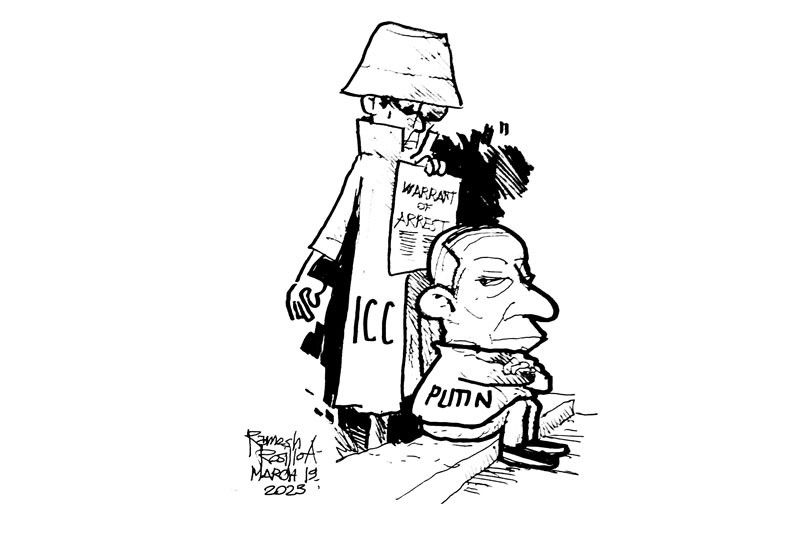 Ang International Criminal Court miisyu og warrant of arrest sa gikonsiderar nga ikaduhang kinagamhanan ug impluwensiyadong lider sa kalibotan, si Russian Presidente Vladimir Putin tungod sa pagatake niini sa nasud sa Ukraine nga diin nikalas og daghang sibilyan ilabi na mga bata.
Samtang tuod lisud kaayong arestuhon si Putin diha mismo sa iyang nasud ilabi na nga siya karon ang kasamtangang presidente. Way otoridad sa Russia nga molabaw pa kang Putin, busa basta naa lang siya sa sud sa ilang teritoryo walay modakop kaniya.
Bisan gani moadto kini sa laing nasud nga miyembro sab sa ICC, walay magpaalig-alig og dakop kang Putin, kung dili nila gustong sulongon sila sa Russia. Usa pa, walay polis o law enforcers ang ICC nga mahimo niyang suguon aron pagdakop sa mga war criminals.
Apan wala kini magpasabot nga "kiko" lang ang ICC, kini tungod kay bisan kinsa pa nga gamhanang lider mahimo gyud nga dakpon ug mapaatubang sa korte ug mahukman og pagkabilanggo.
Magdepende kini sa naglingkod nga gobiyerno sa nasud. Kun kontra partido, dako kaayo ang purohan nga dakpon gyud ang wanted nga lider ug i-extradite ngadto sa The Hague aron lutoson sa kasong gipasaka batok kanila ug mahukman.
Daghan nang mga lider sa kalibotan ang gidakop ug gitaral sa hukmanan sa ICC ug nahukman nga mabilanggo.
Mao nga dili gihapon garantiya nga kublan ang si bisan kinsang impluwensiyado ug gamhanang lider nga maghimo og pagabuso sa ilang katawhan ug sa ubang nasud samtang sila naglingkod sa gahum.
Ang gihimo sa ICC magsilbi untang pasidaan sa mga gamhanang mga nasud nga dili magpasulabi sa papamugos sa ilang gahum ngadto sa mas gagmay ug hinay nga mga nasud. Ang Pilipinas usa sa mga nipirma kaniadto sa Rome Statute nga maoy gibasihan sa pagkatukod sa ICC, apan sa panahon ni kanhi presidente Rodrigo Duterte, nigawas sa ICC ang Pilipinas.
Kini human nga ang maong korte nipadayag nga mohimo og imbestigasyon kabahin sa Davao Death Squad ug kaning duguong war on drugs sa iyang administrasyon kaniadto. Gani ang Solicitor General sa Pilipinas miduso na og legal nga lakang aron sa pagawhag sa ICC nga hunongon ang maong imbestigasyon tungod kay dili na miyembro sa ICC ang nasud ug wala na kini hurisdiksyon dinhi.